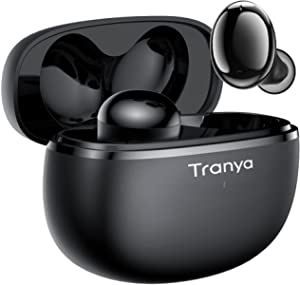 Well, it's time to review another great Tranya product with the T20 (you can read about the Tranya T30 here). I'm not certain what if I can say about these, but I'll start with the 6mm high-intensity magnetic driver that promises "3D Stereo sound".
I'm going continue with the shape of these things. They are definitely made to fit in the ear, and rather well. I don't know how to describe their shape, but they are kind of oval.
So I guess the next question is, how long will they play? Well, we're looking at 8 hours, but the website shows 40 hours. Perhaps this is with the charging case, which charges thanks to the help of some speedy USB-C action.
I almost forgot to mention that the Tranya T20 has a Low Latency Gaming Mode, which is made for a near-zero delay. Not only is it good for mobile gamers, but just for regular video watching.
If you are using the T20 for phone calls, it comes with 4 microphones, so you will be heard. I should also mention that it has a single mode feature in case you want to be sharing a tune with a friend.
I should also mention that the T20 has an IPX7 rating, which means it is water and sweat resistant. Now, the Tranya T20 can be found on the Tranya company website for $69.99, but you can also find it on Amazon.