Introduction (Does It Do What It Should)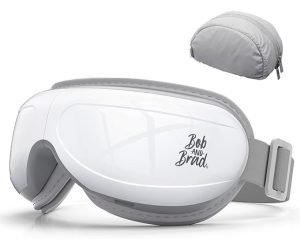 The short answer to that headline question is, yes! You can see in the video below of how I take it out of the box and it started to work before I even wanted it to. Seriously, there is this awkward pause where the device started talking to me, and I didn't even talk to it.
Why it started work is because there was a power button (which was bigger than the others) and it came on. I didn't go into too much detail in the video about the other buttons, so I will take the time now.
The top button is a pressure change, which will alter the way the little pushers in this guy massage your head. Yeah, that is a thing that happens. In the video I said that this thing felt like a heart in the bag, and I wasn't kidding. I mean, it was warm, and it was throbbing, and it was like I was Mola Ram from Indiana Jones and the Temple of Doom. Okay, that comparison really got gross, but at least it wasn't bloody.
So yeah, this thing will push on your head. Have you ever had a friend or loved one massage your temples with your fingers? It feels like that, but 12 times better. Yes, I said that in the video, and it is quite something. I mean, when your friend or love partner does it, you have to ask them to increase their pressure or whatever. Isn't it just better than to push a button?
Also, unless your friend or love partner is the Human Torch, he/she/they/whatever pronouns can only have their body heat to work with. This EyeOasis 2 can increase its heat as well as its pressure, and while that might not be good on the summer day that I used this, it could be very good at another time.
Here's another thing it can do: play music. This is because these are also Bluetooth headphones, and you do have to pair them. I actually didn't expect that as a feature, especially with a price as low as it is.
As far as what it can do, you will see my reaction/response of it in the video, and if you like, you can edit it to show how suggestive it is. Seriously, I was watching this and thought: "Out of context, this could play on…yeah, I'd rather not say"
Facts About The Company
So, Bob and Brad are these physical therapists that decided to provide some great get-fit, stay healthy, pain-free information for everyone. As the box says, they are the most famous physical therapists on the Internet, and I don't think that is self-proclaimed, as they have like 4 million followers. Yeah, I don't have near that amount.
Anyway, I like the company vision of "Be Fit, Be Active, Be Healthy, and Be Pain Free". It is a life that I'm trying to live, even though I am slightly chubby (at least at the time of this writing).
What Does This Company Make?
I checked out the company's other products, and they are quite health related, ranging from joint and muscle cream to a pull-up system. They also do some great massagers, and I think it would be great if we did more reviews of their products.
Just the Specs, Man
If you're the type that needs this info, this section is for you!
I didn't really see much specs on the site, as I can't even find this product on the Bob and Brad website as yet. Perhaps it is too new, but go over to Amazon if you are interested.
If there is something on this that I didn't cover, please let me know.
What Do the Reviews Say?
Well, out of 622 ratings, it rates at 4.4. I honestly think that is too low, and deserves a 4.7 at least. Granted, I still haven't had an opportunity to use it during migraines as yet. If it helped every time, I would give it a 6.0 out of 5 stars.
Okay, Get To The Unboxing Already!
Okay, I Like It, Just Give Me The Link So I Can Buy It Already!
Maybe I Want It, But Is There Anything Else Like It? Maybe For A Lower Price? Please?
I reviewed this one product from a company known as OSIM, and their uMask Eye Massager was something more soft and much limited. It was also a lower price.