So, it has been quite a while since we reviewed any Black and Decker product, which used to be something that we did often a few years ago. Seriously, just do a search on our Search Engine for Black and Decker, and you'll see all kinds of power tools and lawn and garden instruments. I suppose that I could put links here, but hey, I'll put this one from Porter Cable, which I believe is under the Black and Decker company umbrella. Without further ado, we have four different vacuum cleaners to review from Black and Decker, and all of them…really suck. (I really need better jokes, as I use that one as a lead in the video below.)
Our Review of the DUSTBUSTER Cordless Hand Vacuum Pet With Base Charger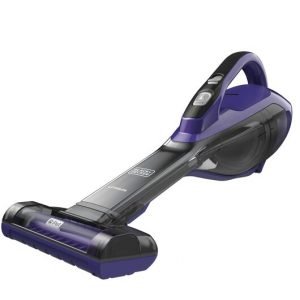 Okay, so if you have ever seen any box for a vacuum cleaner before, then you know that they have one thing in common: a pet. Seriously, every packaging that I have seen for a vacuum cleaner has either a cat or a dog on it. So why not make a DUSTBUSTER (I'm assuming this is a trademarked term and have no idea why it is in all caps) Cordless Hand Vacuum Pet with Base Charger.
After all, if you own a cat or dog, then you know how their fur just multiples once it leaves their coat. In my house, I think that I can just sweep up all that hair and see if I can't just make another dog. I suppose that I could just suck it up with this DUSTBUSTER Cordless Hand Vacuum and find out.
The Pet Vacuum comes with a Motorized Pet Head with Rubber Tires, and it affixes on to the extendable nozzle on the end. You can take it off (rather easily if you aren't careful), and then use the extendable end to get into some tight places, where all that shedding goes to dwell.
The cool part is that there is no bag, but this dirt bowl is clear, so it is easy to see when it is full. There is a button that you can use to eject it, and I kind of did it by accident, honestly.
What is really cool is that it comes with this base charger that locks in and has an indicator when fully charged. You have to plug it into the wall for the charging, and I'm not certain how much vacuuming you can do before it stops working.
Still, it is a good vacuum to have if you have a pet, and I found out more information about it on the Black and Decker site. As for the price, I found it on Amazon for a little under $100.00.
Our Review of the dustbuster AdvancedClean Slim Cordless Handheld Vacuum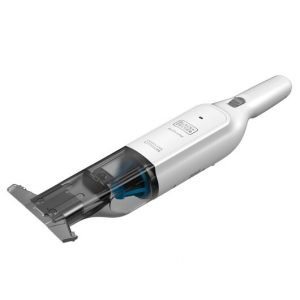 So, let's talk about the Black and Decker dustbuster (not certain why it is lower-case letters) Advanced Clean. Does it compare to the one for the Pets? Well, the packaging claims that it is 3X more suction power, but I am not certain what that is a comparison to.
On the subject of comparison, I will say that it appears to be made for happy little accidents. That is, there isn't a lot of room in its dustbin, which is very easily removable. The one thing that I have to give a lot of credit to is the design of its nozzle, which can somehow spread out. Seriously, the designer deserves some kind of engineering award.
In case you need to reach those hard-to-reach places, there is an attachment tool for that. Namely, it is this crevice tool, which attaches with ease, and comes with a brush.
Speaking of attaching, let's talk about the charging base, which puts the dustbuster AdvancedClean on display like a prized sword. You can find more information on this quick cleaning tool on the Black and Decker site, and I have found it on websites like Wal-Mart and others for under $50.
Our Review of the Stanley 5 Gallon/4 Peak MAX HP Pro Wet/Dry Vacuum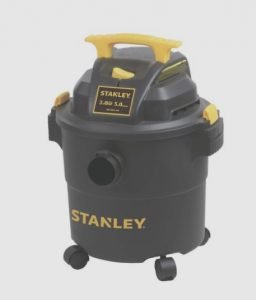 As I mentioned before, Black and Decker has a lot of companies under their wing, and Stanley is one of them. I'm not really certain how this relationship works, but I will say that this is the first time that I have reviewed a Wet Dry Vacuum.
It's good that I have, because I have noticed that during flooding times, these guys tend to be nowhere to be found. The Stanley 5 Gal 4 Peak MAX HP Pro Wet/Dry Vacuum is definitely made for some seriously cool cleaning jobs for "just adding water".
It comes with a 14 inch by 5 inch hose, and you can see me clumsily assemble it in the video below. You can snap on these wheels as well as all of these cool attachments to the hose itself, which also snaps on and off.
You can find out more information on the Stanley site, and you should be able to purchase it for a price of a little over $50.
Our Review of the POWERSERIES Extreme Pet Cordless Stick Vacuum Cleaner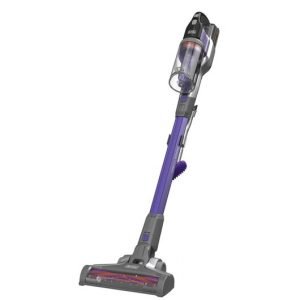 So, I have to say that it seems like vacuum cleaners are not like the ones with the huge bag, the ones that will eventually spread dust around if you own them long enough. Man, I love how these guys are lightweight, and yet still pack a lot of power. The POWERSERIES Extreme Pet 20V MAX Cordless Stick Vacuum is no exception to that rule.
The POWERSERIES Extreme is made for all surfaces, like carpets and hard floors. Now, it does have Pet in the title (sometimes) which means its v-shaped bristle pattern is made to pick up all kinds of pet dander, not to mention dust and crumbs. There is apparently some kind of patented anti-tangle brush bar to "minimize hair wrap and maximize suction power".
Unlike the other vacuums, where I don't know how long it will last on a single charge, this lasts about 55 minutes on run time. Now, I am not certain how much the filter can hold, but it is enough to do a good cleaning, and it is very easy to clean out when you need it.
So, you can find out more information about the POWERSERIES Extreme on the Black and Decker site, and you should be able to find it for a little under $200.00.