Introduction (Does It Do What It Should)
So, we had a chance to review some great products from the GE Sync line, and we have three: an outdoor plug, an indoor plug, and an Outdoor light bulb. It feels pretty complete, actually.
Our Review of the GE Sync Outdoor Smart Plug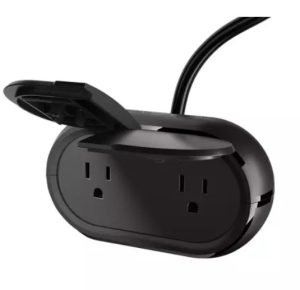 So, this is an Outdoor Smart Plug, which is made for connecting to something that is…outside. Say, for example, you have some Christmas lights that you want to put up.
Best of all is that it is smart. You just program it and it will bring power when and where it is needed. This is all thanks to an app which is easy to bring up when needed.
If it is connected to a voice assistant, like Alexa or a Google Assistant, you can take control of something plugged into the Outdoor Smart Plug that way.
Best of all, you don't need a hub for this. If this is something that you want, feel free to go to GE Lighting site and lay down about $24.99 for it.
Our Review of the GE Sync Indoor Smart Plug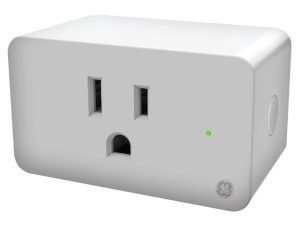 So, now that we talked about the Outdoor plug, it just seems right for us to talk about the Indoor plug. I will have to say that the features are about the same.
That is, you can program it using an app. Oh, and you can also use an Alexa and Google Assistant to control it vocally. So, I suppose if you have indoor holiday lights, this is what you can use to turn them off and on at whatever time you need.
Now, like the Outdoor Smart Plug, I am seeing variations on the price, but it looks like $14.99 is a decent price, and you can find more information on the GE Sync site.
Our Review of the GE Sync Full Color Direct Connect Outdoor Smart Bulb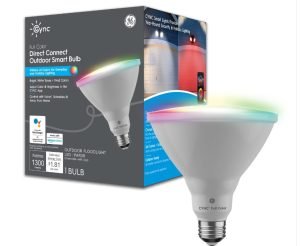 It would appear that I am on a holiday theme here, so I might as well just go all the way with the Full Color Outdoor Smart Bulb. Honestly, you can use the Cync App to program it for lights on or lights off, and from there, all the colors can happen.
Oh yes, and it is good for hands-free control with Google assistant and Alexa. So how much control do you have? Well, you apparently can have millions of colors, which I like. This include the bright, the white, and the vivid.
If this is something that you are wanting, it is pretty affordable about $12 or something. Here's some more info about it on the GE site.
Facts About The Company
Dude, it's GE, man! Do I need to say anything more? I mean, General Electric was founded by Thomas Edison, the inventor of the light bulb. Actually, I'm not certain if he invented it, but apparently, he had this invention company and at least took credit for it.
But yeah, GE is big. I mean, they own NBC, for crying out loud! And yet, they are still a Savant company. Man, Savant must be super big.
What Does This Company Make?
I'm just going to speak for GE Sync, but it looks like they make more than just Bulbs and Plugs. It would appear that they make sensors, switches, and thermostats as well. I'm totally going to have to review those too.
Just the Specs, Man
If you're the type that needs this info, this section is for you!
I don't really have any numbers for this, but head over here to the CYNC Outdoor Smart Plug purchase page. Here's one for the Indoor Smart Plug purchase site.
Here's the specs for the Direct Connect Outdoor Smart Bulb:
General
Product Technology LED
ENERGY STAR® Qualified Yes
Bulb Color / Finish White
Indoor / Outdoor Indoor/Outdoor
Dimmable No
Replacement Watts 90w
Estimated Energy Cost Per Year 1.81
Base E26
Base Name Medium
Lightbulb Shape Code PAR38
Warranty 3 Years Limited
Electrical
Wattage (W) 15
Voltage (V) 120
Photometric
Lumens 1300lm
Color Temperature (K) 3000k
Misc
Color Rendering Index 90
Wireless Connectivity Bluetooth & Wi-Fi
Lighting Category Light Bulbs
Bulb Diameter (in) 4.9
Home Automation Interfacing Yes
Compatible Systems Google Assistant, Amazon Alexa
Package Quantity 1
Overall Length (in) 5.3
Color / Finish Full Color
Vintage No
Base Name E26
If there is something on this that I didn't cover, please let me know.
What Do the Reviews Say?
For the Outdoor Smart Plug, we are talking an average of 4.6 stars out of 29 reviews, with 22 5-stars. That's just on the company site. On Amazon, it has about 4.5 stars with over 3,288 ratings. That's good.
So let's talk about the Smart Indoor Plug. It's a little lower at 4.2 stars with 31 reviews. On Amazon, it is 4.5 stars with about 1,657 ratings.
As for the Direct Connect Outdoor Smart Bulb, we are looking at something very highly rated at 4.8 stars out of 29. I can't seem to find this on Amazon when I did a search.
Okay, Get To The Unboxing Already!
Okay, I Like It, Just Give Me The Link So I Can Buy It Already!
Maybe I Want It, But Is There Anything Else Like It? Maybe For A Lower Price? Please?
Actually, we once reviewed products from C/GE before. I did this review of the Drift Light Smart Bulb, but I don't know what happened to that. Crud, that was almost ten years ago.
There are also various other companies that make smart light bulbs, not to mention companies that make products to turn a whole house into something smart. What I can't figure out if it is easier to get this system with the bulbs, or just purchase the smartbulbs.
I'm going to let you make that decision, but I will have to say that I like these GE Sync products are great, and I do love them. I demonstrated the bulb in the video, as well as what the smart plugs are capable of. I highly recommend you check that out if you want to see more of that. Anyway, I really hope that I can review more of GE Cync products in the future, but we'll have to see about that.