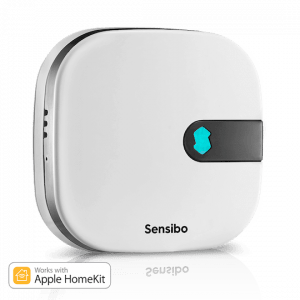 Well, we have done a review of the Sensibo Sky and the Sensibo Pure, and I suppose that it was just a matter of time before we had a chance to review the Sensibo Air. I am told that the Air is a controller for PRO users, and "for those who are looking for greater accuracy in their home climate and even more energy savings".
Maybe I just better tell you what it is. It this module thing that was very easy to set up. In fact, I am actually surprised that it worked. You see, I have an AC unit that looks pretty new, but I have to admit that the controls for it looked like something out of the seventies.
However, once I had my account at Sensibo set up, I had to aim the remote at the Air unit, and then it worked. So now I control my AC unit with the help of a Sensibo app. By the way, my AC unit is also good for heat, so I have some serious climate control going on in my house now.
The module comes with a cord that connects to the wall outlet, and you can put the Sensibo Air on the wall as it has a hole in the back for a nail or screw or…you get the idea.
So I can also set up a schedule for how warm or cold that I want my house. Now, you can get a single kit on the Sensibo site for $139.00, and it goes up after that.