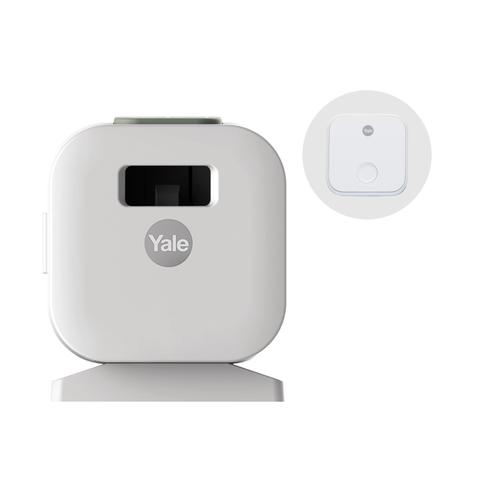 So I am sure that you have all heard of Yale, right? You know, great University, and great locks. Okay, those things have nothing to do with each other, other than the name, but Yale is the "go-to" as far as locks are concerned, so it makes sense that they are in the smart locks business. So this is why they are the right makers for the Yale Smart Cabinet Lock and Connect Wi-Fi Bridge.
I don't think you need an education of what a smart lock is, but you can always check out my review of the August Wi-Fi Smart Lock article/video if you want to see that in action. I suppose that it is reasonable that someone would make a smart lock for a cabinet door.
After all, you probably put valuable things in cabinets, or things that you might not want other hands to get a hold of. It is probably difficult from this picture for you to see exactly how this smart lock works, but trust me, it does work.
How it works is very interesting. What you do is set it up so it is inside the cabinet itself, and then install the "key" thing on the door or drawer. Once these two connect, they lock together.
Then you can use the app to make certain that it stays locked until you open it on your mobile device. The Yale app also gives an access history, as well as enabling an auto-lock to know if the cabinet lock is open or closed.
In case you are wondering what the plug-in is, it is the Wi-Fi Bridge. You plug this into the wall, and the Wi-Fi Connect allows you to control the lock from anywhere. It also integrates with voice assistants like Amazon Alexa and Google Assistant.
If you have a cabinet or drawer that you want protection for, then head on over to the Yale website and prepare to pay $129.99 for it.