Ah, Nomad. It has been a long while since we have reviewed one of your fine products, particularly your cases and/or chargers. This is going to be the first of our trips to Nomad-Land (unrelated to the 2020 Oscar-winning film).
Our Review of the Modern Leather Case for the iPhone 13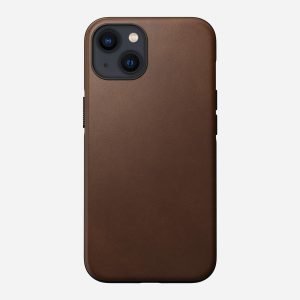 So yes, this is a case for the new iPhone 13, and it has the usual trimmings of a full 360 degree exterior TPE bumper, and it looks good as it is made of leather. It is very similar to the case that I reported on in 2016, as it has Horween leather.
However, unlike that case from (was it really 5 years ago?) this particular Modern Leather Case is set up to work with MagSafe as well as NFC. So what is Horween leather? Nomad themselves says that it is leather sourced from the renowned Horween Leather company. This leather skin is has the ability of "patina" which will "weather but not wear out".
You should be able to purchase the Modern Leather Case on the Nomad site for $59.95.
Our Review of the Modern Leather Folio for the iPhone 13 Pro Max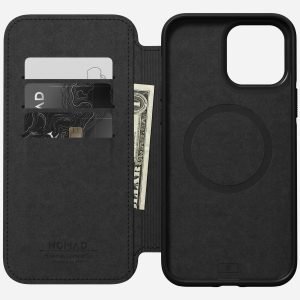 So, you can see a big difference between this Modern Leather Folio and the other leather case, as this Folio folds out, looking very nice. You can see it holding some credit cards (up to six, actually), and even some nice cash.
The Folio is set up with the 360 degree TPE bumper, allowing safety from drops of up to 10 feet. Yes, that is exactly like the aforementioned leather case, and it also has some great Horween leather was well. It also has MagSafe and NFC covered as well.
You should be able to purchase of it on the Nomad site for $79.95.
Our Review of the Sport Band for the Apple Watch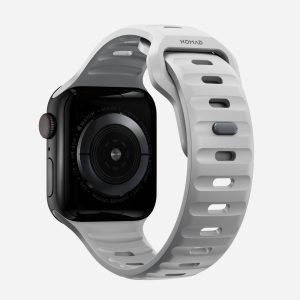 I kind was expecting this sports strap to be metal when I saw it on the box, but it is made of some very durable plastic. I am told that it is made this way in a minimalist design to "keep the weight low and the ventilation high".
The strap tightens with a "pin and tuck closure", which is something that I haven't really seen before, honestly. It also uses something called FKM so it will wipe clean after sweat gets on it, and this band is actually very flexible as well.
If you like this, you can purchase it on the Nomad site for about $59.95 on either size of the Apple Watch in many different colors.