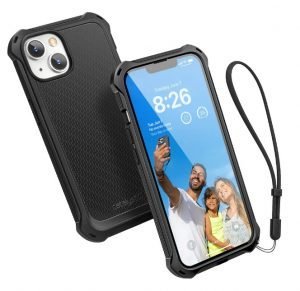 By this time, we have reviewed Catalyst products several times in the past. The last time was with the Vibe and Influence cases, which give a lot of protection, but not the usual company standard of protection against water. Today, I'm going to discuss the Crux Cases for the new iPhone 14 series.
The Crux reminds me of something that I would see from UAG, and it is also made for Impact Protection, and I am told that it is military standard. Apparently, it is 2.5 times higher drops, as it can take about 10 feet.
I'm not certain why it is called the Crux, but I have to admit that I like how it has 33 percent wider slip-proof corners. However, if that anti-slip grip isn't enough for you, then perhaps you should use the lanyard.
So, can we talk about how it is MagSafe compatible. It's weird to see that some companies were not prepared for a MagSafe revolution. In fact, there seems to be a weird footnote on the company website that says that the Crux Cases for the iPhone 14 Pro is not compatible with Magsafe accessories.
You can get the Crux for the iPhone 14 here, the iPhone 14 Plus here, and the iPhone Pro Max here.