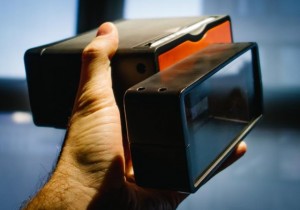 I am not certain if we really want 3D, as this come-and-go fad might have peaked shortly after Avatar was released. Still, if you want to take 3D videos and photos on your iPhone, you might want to look into a Kickstarter project called Poppy.
Poppy is a non-electronic way of making 3D, which works a lot like a Viewmaster. You know, that toy from the seventies that gave you 3D images of your favorite cartoon characters? This Poppy, about the size of a pair of binoculars, uses lenses and mirrors to turn an iPhone into a 3D display by side-by-side 3D content.
I believe that it can allow taking and viewing of 3D content, and you can even view YouTube content in 3D. That should be pretty fun.
Now, as I mentioned before, the Poppy is a Kickstarter project, but this one has already received its funding that it wants, and so I suppose the next logical step will be having the Poppy available at your favorite store. Now all I need is a solid MSRP.