Introduction (Does It Do What It Should)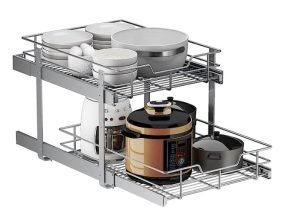 So, this is another Coralov product, very similar to the Pull Out Organizer that we reviewed the other day. Except for the obvious increase in the size of this particular Pull Out Spice Rack Pull Out Cabinet Organizer (I think this is it's full name), this particular product is nearly identical.
I have to admit, I did have a bit of a troubling time putting this together, as I told in the video that you can see below. There were these cross beam with the drawer extensions, and I could figure out how to properly affix them to the U-shaped beams. It turns out that all I had to do was screw them in from the other side, and it worked. I just wish I had figured this out before I had stripped the head of the screw trying to put that sucker in so tight. That one badly done screw didn't do much harm to the thing working.
Now, I reviewed this really cool similar Coralov product that I reviewed which had both recycling and garbage cans in a drawer. That one required screwing this into a cabinet and then removing the door and screwing that on. It is kind of much, but with this product that I am reviewing now, you just screw it into the cabinet.
Granted, you will need to get down and dirty in the cabinet to do that, but you'll only have to do it once. Oh, there are these parts that screw into the wall as well, but they don't screw-attach to the product itself. It's kind of weird, but it should work, structurally.
As I said in my video, I don't really have a cabinet that is really big enough for it. Still, it is a very decent product that you can get right now, and I would have to say that it is worth it if this is what you want. It is strong and durable, and it will keep your stuff organized.
Facts About The Company
So, this is some company known as Coralov, and I have done searches for this company, and I found one, but I'm not finding any company that I am sure is the one who represents this particular product.
What Does This Company Make?
According to Amazon, who usually has some kind of link to other products related to it, has no real products showing.
Just the Specs, Man
If you're the type that needs this info, this section is for you!
Specific Uses For Product Sinks
Material Chrome Finish
Color Chrome
Brand Coralov
Finish Type Chrome Plated
Mounting Type Pull Out
Product Dimensions 22″D x 18″W x 18″H
Item Weight 6 Pounds
Number of Compartments 2
Special Feature 2 tier pull out cabinet organizer, Cabinet slide out shelf, Cabinet slide out shelves, Slide out cabinet organizer, Cabinet drawers slide out2 tier pull out cabinet organizer, Cabinet slide out shelf, Cabinet slide out shelves, Slide out cabinet organizer, Cabinet drawers slide out
If there is something on this that I didn't cover, please let me know.
What Do the Reviews Say?
Pretty good. We're looking at 4.2 average out of 219 reviews. That would definitely be my review of it, which I like.
Okay, Get To The Unboxing Already!
Okay, I Like It, Just Give Me The Link So I Can Buy It Already!
Maybe I Want It, But Is There Anything Else Like It? Maybe For A Lower Price? Please?
I'm pretty certain that we have not reviewed anything like this before. I believe that I am going to review something else very similar here in a bit.