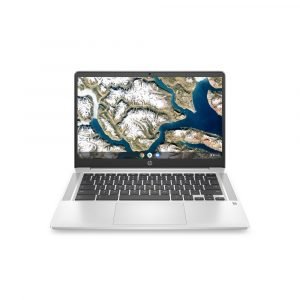 So, we did a review of an HP Chromebook before, and this was the review, and for all I know, this could actually be the same one. These days, they make all kinds of different products with varying model numbers. This particular one is an HP 14-inch Pentium 4 GB/64 GB Chromebook, and I'll get to the specs now.
For starters, it has a 14-inch display, and it is strange that it is not a touchscreen. It has an Intel Pentium Silver N5000, and Intel Graphics 605. Now I tried it out, and I have to admit that this is my first Chromebook. I've pretty much used Android products all my life, and so I was used to something like this.
I had to admit that this was the first time that I have seen something like this, requiring all kinds of downloads to get it working like the PC that I am working on right now. It comes with the defaults of YouTube and Gmail, and the setup of it was quite simple.
As for the ports, there was really much with 2 USB-C ports (one on each side), a USB-A port, a microSD card slot, and a headphone jack. There is one more aspect I should talk about, and that is the battery life, good for 13 hours.
I found a good price for the HP Chromebook at about $249.00, and this is from Wal-Mart.