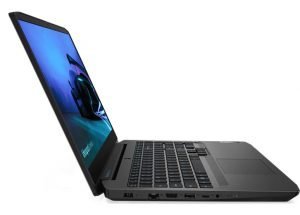 All right, it is time for us to review another Lenovo product, and not the one that I am typing on right now, the IdeaPad Flex 14. This is the IdeaPad Gaming 3i 15-inch laptop, and it is quite sizzlin'.
I'll start with the stats. It's got a 10th Generation Intel® Core™ i5-10300H Processor (2.50 GHz, up to 4.50 GHz with Turbo Boost, 4 Cores, 8 Threads, 8 MB Cache), and yes, I copied and pasted that one. We also have the 8 GB DDR4 2933MHz memory with a hard drive of 512 GB PCle SSD. As for graphics, we have NVIDIA GTX 1650 Ti 4GB, and Windows 10 Home 64.
Since it is gaming, what does that mean? Well, how about a backlit keyboard? Oh, it's got it. It also has a bigger trackpad, at up to 30 percent larger. Apparently designed for an optimum gamers with 1.5 full key travel, and I don't even know what that means.
I also forgot to mention its rather large 15-inch screen, which I like, as well as the numerous ports. I mean, it has two USB ports, HDMI, Firewire, USB-C, and headphone jack.
If this is right for you, you can purchase the IdeaPad Gaming 3i 15-inch laptop on Lenovo site for $784.99.