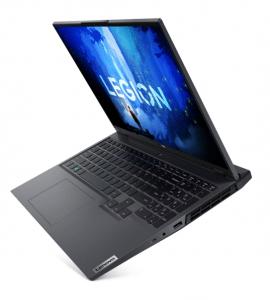 All right, summer is in the house, and it is a hot one! At the time of this writing, it is quite, quite hot out there. So maybe you want to just stay inside, and get yourself a little gaming done on your laptop.
Well, I have Lenovo to thank for this one! You know, I actually use a Lenovo for most of my work here, and that one is the IdeaPad Flex 14.
You can compare and contrast on our video below, but man, how does this Legion 5i measure up? Well, we are talking a whopping 16-inch screen, which I like, even though it is not a touchscreen. The screen is WQXGA, by the way, with 240Hz adaptive refresh rate, 500-nits of brightness, not to mention some Dolby Vision thrown in. It is also X-Rite Pantone certified.
So let's talk inside, namely Intel Inside. The Legion 5i Pro has the latest Intel 12 Gen H-series processors and some serious NVIDIA GeForce RTX graphics. It has DDR5 support, native Thunderbolt 4, and Wi-Fi 6/6E support. It can do a higher bandwidth of about 4800MHz memory.
I am also told that the this Legion AI Engine can intelligently optimize games to improve frame rates. I'm talking a 240Hz adaptive refresh rate display. It also has RTX 30 series graphics cards that include
Ampere: NVIDIA's 2nd Gen RTX architecture that doubles throughput.
DLSS: Groundbreaking AI used to render pixels and boost frame rates.
3rd Generation Max-Q: Uses AI to dynamically balance resources for optimum operation
There is also this Legion AI engine can optimize the performance of your latest and greatest FPS. So if you want to play Fornite, Apex Legends, Overwatch, whatever your game, you'll get a custom-tuned profile offering of 5-16 percent better FPS.
It the Legion 5i Pro has Lenovo ColdFront 4.0 to leverage larger intake and quad exhaust vents to boost cooling. It is a dual-fan system to pull cooler air into the system and pushes hot air out in four different directions.
Let's talk about sound. This thing has Nahimic 3D Audio for Gamers, which really has the surround sound immersion thing goin' on. It even has a feature known as Easy Surround, which allows for full surround sound with many Bluetooth speakers.
I should also talk about how you can increase your security with this e-shutter. Don't want to be seen while you're doing your business, whatever business it is? I won't judge. Then all you need to do is just flick this switch.
Lets talk about the keyboard. How do I change this again? Oh, you might notice that it has the arrow keys and numpad away from the keyboard, not to mention this trackpad. I know that is important for some gamers. Anyway, you can hear the satisfying clicks that are pretty quiet and this is part of the "soft landing" design.
As for the battery life, we are talking 80 watt-hour battery. It also has Super Rapid Charge technology that charges the battery from 0 to 80 percent in just 30 minutes.
And of course, we should also talk about ports. On the left side we got what I thought were two USB C ports, but one is a Thunderbolt 4 and the other is a Type-C 3.2. On the back is a USB-A 3.2 Gen 1 (always on), an HDMI, USB-C, and Ethernet. (I have to admit, I usually don't see a charging cord that looks like this.) On the right side, a USB Type A, Audio Combo Jack, and then the camera e-shutter switch.
I should take a moment to talk about Lenovo Vantage. This is a home to all your settings and customizations, and it is located right down here on the menu bar.
So, do I like it? Of course, and you can find it on the Lenovo site, and the price varies depending on what model that you want.
But this isn't all I want to bring you from Lenovo! Are you listening, Lenovo. You sent me this, is this all you got, I don't think so.