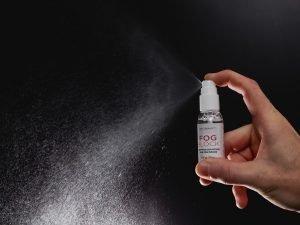 I have to admit that I was surprised to see a company like KeySmart, makers of the CleanTray, as well as the KeySmart Pro and KeyCatch, to make the FogBlock, and Anti-Fog Spray.
Of course, we do live in an era of COVID-19, and so it is necessary to have a product such as this. After all, we all need masks to protect us, and some of us wear glasses. These glasses tend to get fogged up because, I don't know, the air just gets up in there, you know?
Fortunately, FogBlock is made for this. I don't wear glasses, but I know several people that do, and this is a constant problem. It really makes sense to have a spray that you can put on your glasses to block them from fogging up.
I had a chance to try this product out, and I have to admit that I have been putting off reviewing this. Part of it was because I wanted to replicate the problem in a way that would show up on video. I hope that it showed up on video, but believe me, I have experienced the fogging up problem.
I have also experienced the protection of FogBlock, and I can testify that it works. If you are experiencing this problem, and you need a solution, then perhaps you need the FogBlock solution. You can find it here on the KeySmart site for $14.99.