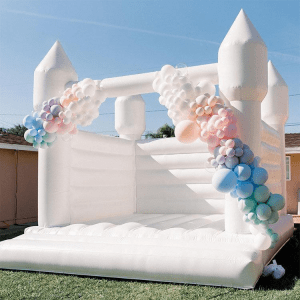 As most of you know, I do a lot of product reviews on this website. This time, I don't have a personal experience with White Bouncy House, but if you want, you can read my review of a trampoline last summer. But enough about that little tangent, as I want to talk to you today about the White Bouncy Castle.
Yes, this is a White Bouncy Castle, you read that correctly. I know that sounds weird, because if you think of a Bouncy Castle, you usually think of something at a kid's party, something that is filled with color. When I think of a White Bouncy Castle, all I can think about is something that is going to look dirty after a few jumps on it, even if the kids leave their shoes behind.
From what I can tell on the White Bouncy House website, these white bouncy houses are perfect for weddings (possibly made for them). I mean, most weddings are white, and so a white bouncy house will fit right in with the décor. It's also practical as the white bouncy castle will give the youngest of wedding guests something to do while the adults are having a great time socializing and drinking. In all honesty, I wouldn't mind having a few jumps on a white bouncy castle.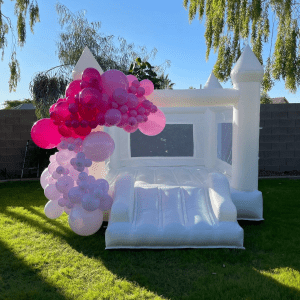 If you look at the white bounce house for kids, you can see that these white bounce castles are so classy. The shapes of these inflatable white bouncy castles are taken straight from a fairy tale, and they also capture the spirit of an amusement park. Several of these bouncy castles have these colorful balloon flourishes, which are the icing on the cake.
If you are interested in buying a White Bouncy Castle, not to mention purchasing one of them, head on over to the website for the white bouncy house for sale website.