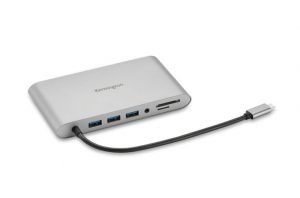 So yes, we are doing yet another review of a Kensington Hub, and the last time was a Mobile Hub that had about the same name. That one was branded a Mobile Hub, but this UH1440P USB-C 5Gbps Dual Video Driverless 85W Pass-Through Power is a Mobile Dock.
I might as well just get to all the ports involved. It has the three 3.2 Gen1 ports, the two memory card ports, and a USB-C port. It also has the HDMI and Ethernet port, but this one has a DisplayPort, VGA, and an audio jack as well.
Now, I don't remember this happening with the last Hub that I reviewed, but when I plugged this USB-C Mobile Dock, it killed my sound. Fortunately, I plugged in my headphones in the headphone jack, and I got complete restoration. I definitely just want to say that I have never seen that happen before, and I have reviewed a lot of Hubs.
Oh, I will talk about how Universal it is, as I plugged in my Android USB-C smartphone, and I could access the USB thumb drives that I plugged into the Mobile Dock from my phone.
If this version of the UH1440P USB-C Mobile Dock sounds good to you, head on over to the Kensington site and lay down $109.99 for it. `