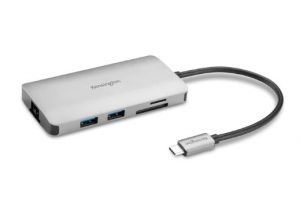 Well, we have reviewed Kensington products before, and if you aren't familiar with them, they make a variety of office products. In fact, I was just looking at this SmartFit Conform Back Rest and wished that I had it. I figure that I should take another look at their docking station with the UH1400P USB-C Mobile Hub. Yes, I said another look, because it's been at least four years since the last time.
Well, like Kensington products, we have done reviews of USB-C hubs before. I suppose what sets this one apart from others is that the UH1400P USB-C 8-in-1 Driverless Mobile Hub is universally compatible. In fact, I went and hooked it up with my computer, which runs windows, and bam, I have access to all the ports. Then I connected it to my Android phone, and tried it out with a thumb drive, and wouldn't you know it, it also worked. If I had a macOS or iPad handy, I suppose that would work too.
So, what are we looking at for the 8 ports? Well, how about 3 USB-A 3.2 Gen 1 ports with one of them supporting charging up to 5V/1.5A, and then a USB-C 3.2 Gen1 port. There are also two memory card readers, and they are a built-in SD and MicroSD. Then there is an HDMI port capable of 4K at 60Hz, and an Ethernet port as well.
So, it has all that, and it is designed to fit right in the pocket, whatever pocket you have, most like. If you want this, head on to the Kensington site and lay down $89.99 for it.