We've reviewed several Kensington products, although it's been a little over two years since we've reviewed a docking station. Today we will get to review a couple of types of docking stations from Kensington. The first one is the USB-C Mobile Dock with Pass Through Charging. The other one is the SD4700P- a Universal USB-C and USB 3.0 Docking Station.
Kensington SD1600P Mobile Dock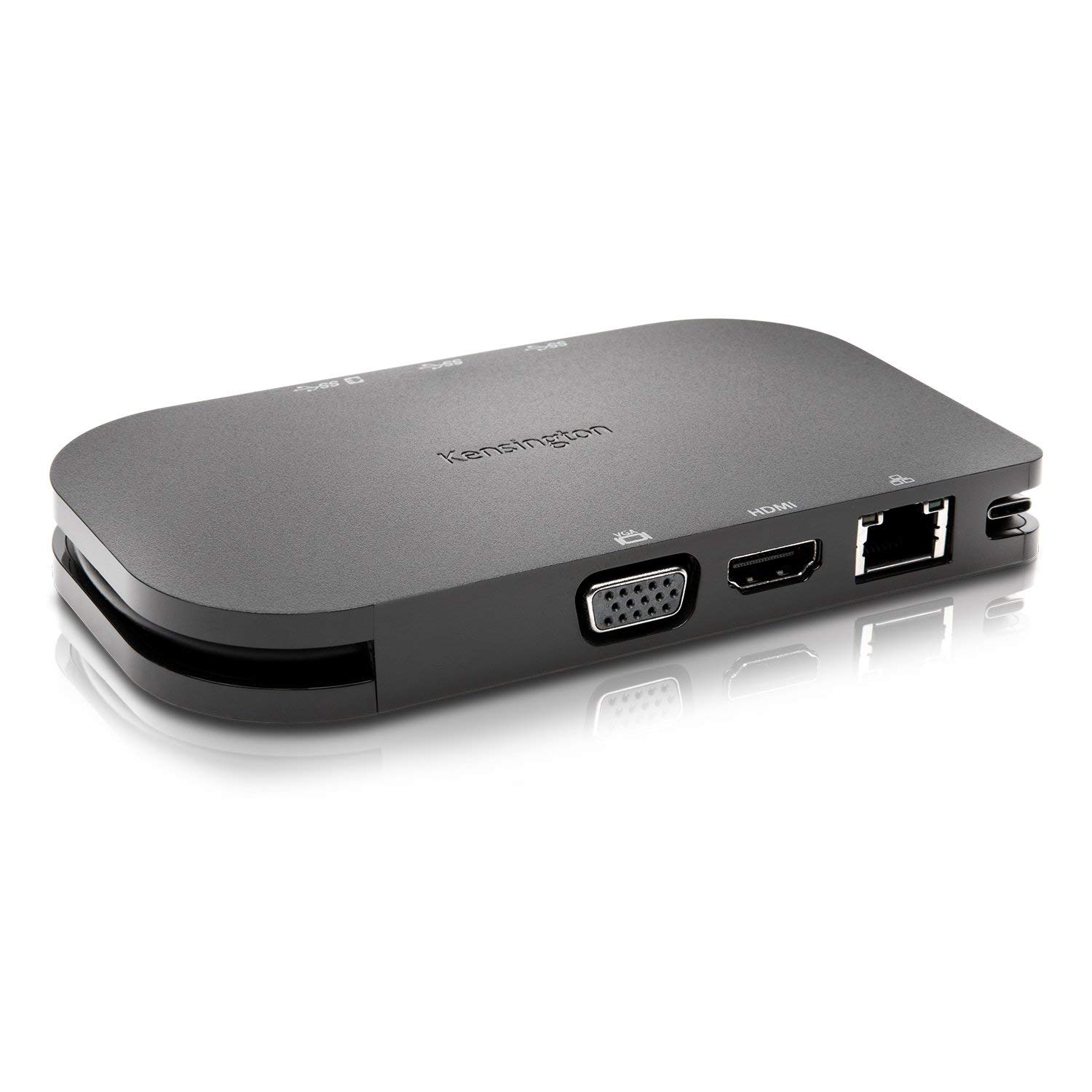 If you have a device that has limited outputs with a USB C port like a MacBook, this little device is great for connecting.
One side contains a VGA port for 1080p HD video, HDMI port for 4K video, and an ethernet port. On the other side, there are two USB 3.1 ports and a USB-C pass through power delivery port. A built-in USB C cable tucks into the side like a mini pocket knife. The design is compact and small- easy to carry. The dimensions are 5″ x 3″ x 1/2″. It weighs 3.84 oz.
This device supports Windows, Mac, and Chrome OS. More info about connectivity is available on the website. The price seems to vary from site to site, but costs about $89.95. It only seems to be available through 3rd party sellers. It's important to know that this is a dock- not a power supply.
Kensington SD4700P USB-C & USB 3.0 Docking Station
The other station was good for people on the go, but if you need something that remains in place, you'll need this: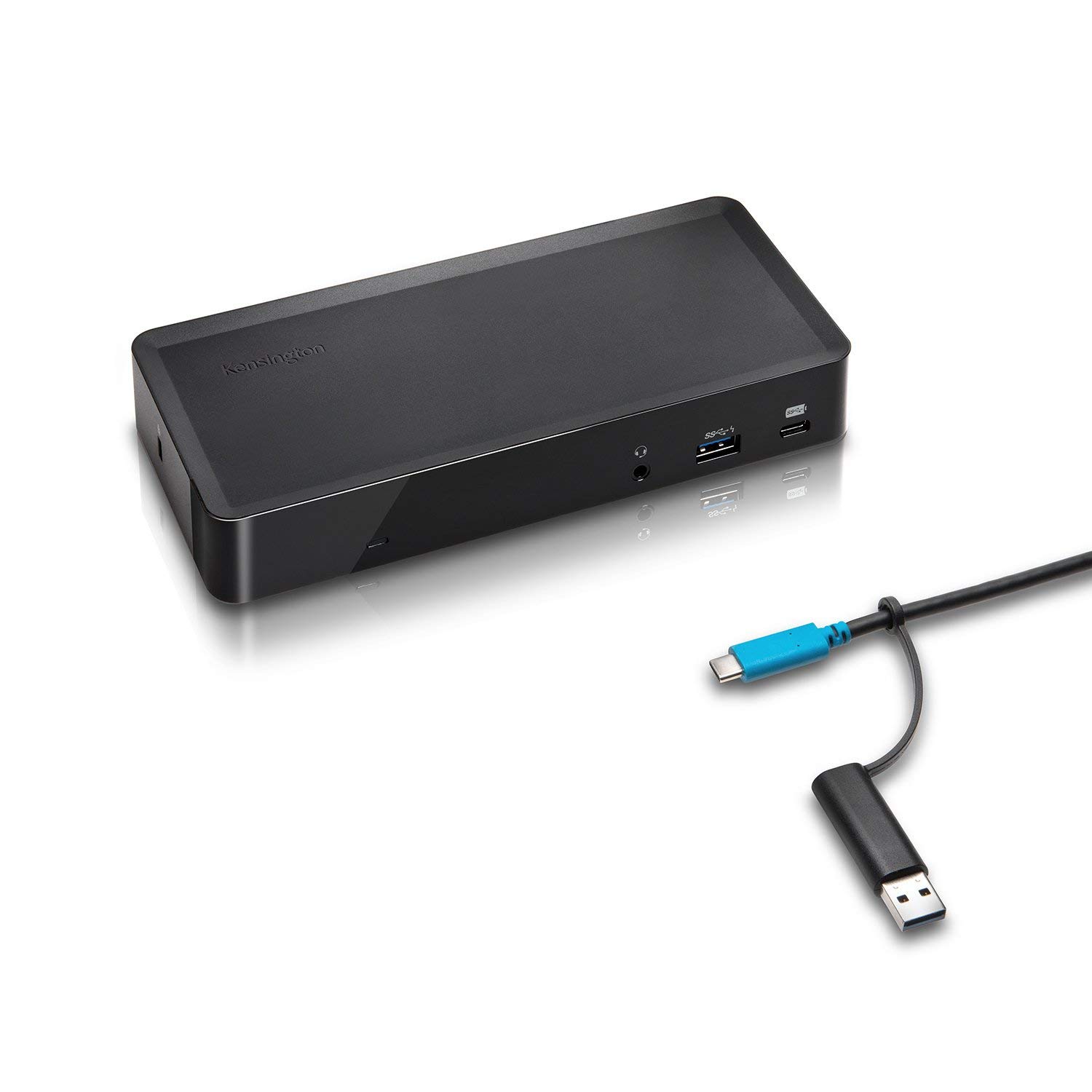 This one is a little more heavy duty than the mobile ports. The dimensions of this- 8.4 x 4.1 x 4.3 in and 0.6 lbs.
In the box, you'll find the docking station, a 135W Power Supply Adapter, a 3 foot USB-C to USB-C Cable, with a tethered USB-C (F) to USB 3.0 (M) adapter.
The Power Supply Adapter provides you with power for the dock and up to 60W of power for devices connected by USB-C. There are 6 USB ports to give you more options than comes with today's skinny laptops.  1 is a USB-C port. The other 5 are 3.0 ports. One of those is a  2.1A fast-charging port to give you the ability to quickly charge tablets and phones. A 3.5 mm headphone/mic jack allows you to listen to your tunes, or communicate with others. An ethernet port allows for the maximum resolution supported. You also get a DP++ and HDMI port. A Kensington security slot allows for the ability to secure your device so it doesn't get stolen.
This one is more costly. It runs for $189.49 on Amazon.com.
An optional Power splitter can also be purchased for the station.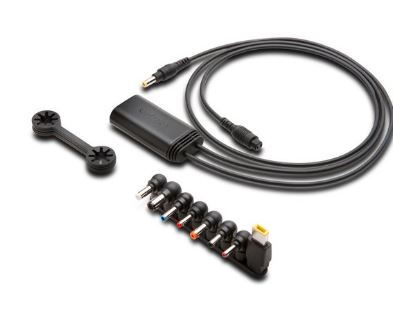 It doesn't look like the image they have on this site, but it is the same thing, and runs about $50. Currently it is marked down on the site.
If you need any of these Kensington products in your life, check them out, along with the other great Kensington products on their website. We received these from the company for free to review. No other compensation has been given.