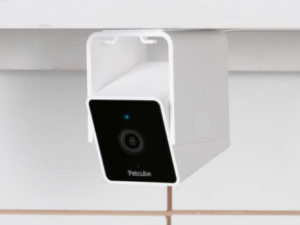 We've reviewed various security cameras for inside and outside like this one, but I don't believe that we've reviewed a specific one that monitors your pets. This camera we are about to review is from a family of pet monitoring cameras from Petcube.
The Petcube Cam is a small (2.39 x 2.13 x 3.22 inches) gadget with a magnet base, so you can easily hook it up to anything metal. It has a strong hold, so I wouldn't worry about it falling off. If you don't have anything metal to attach it to, there is also included a metal disc and 3m adhesive to connect it to something.
Set up is easy. You will need to download the free app, and plug it in to the included charger. The app will walk you through set-up. It requires 2.4 GHz connection- which it seems 5G is missing in a lot of products we get to review with apps. The app is free, but there is a subscription charge to store video on their cloud. There also is a $4.99 a month subscription fee to chat with a vet. I think that fee is pretty reasonable, but it does not replace seeing your regular vet, of course.
The 1080p HD camera has great definition, and there is also a night vision feature that allows you to see clearly up to 30 feet in pitch dark. You get a 110 degree angle of the room. Motion and sound sensor will pick up your animal, so you don't get a lot of unnecessary notifications. There is a two way speaker which allows you to hear your animal and talk to them, too. This camera is actually great for monitoring your baby as well.
Okay, just like the video below, I'm going to do a little interruption here. We tried to set this PetCube Cam up, and we were not able to get any audio from the footage. I don't know if it had to do with our Internet connection or anything, but it is worth reporting. You might notice that the video seems a bit glitchy. What is not visible from the video is that I got some weird feedback noise that was very very loud. It might of had something to do with the phone being right beside the camera, I am not certain.
To find out more, you can go to the Petcube site. The camera retails for about $39.99 on Amazon. There are more cameras that have cool features that we hope to be able to review for you in the future. We were sent this particular camera for free in exchange for our fair and unbiased reporting.