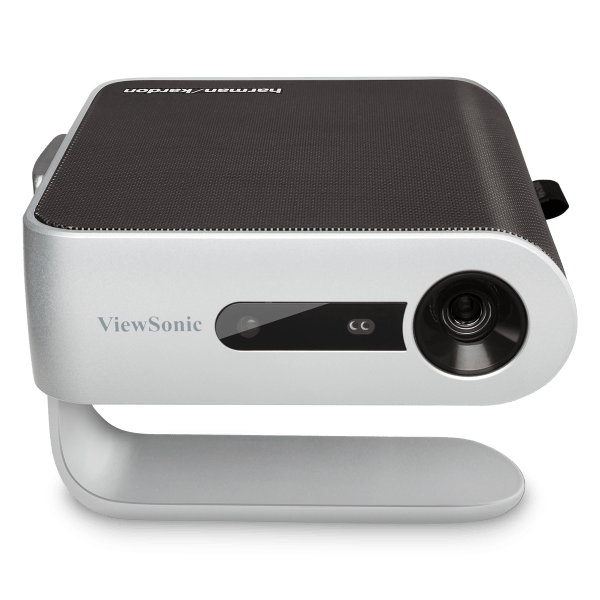 Hey, it has been a while since we reviewed a projector, and one from Viewsonic as well. We had a ball with the Viewsonic M1 Mini, and I couldn't help but think that the M1+ Projector was going to exceed my expectations. I was completely right.
It's going to be complicated to talk about the M1+ without talking about the M1 Mini, but I will start in saying that the M1+ has the same stand/handle design of its Mini model. That handle covers the lens, and turns on the projector if it is uncovered. The easily adjustable handle makes it easy to put in its place so you can throw an image/movie on the wall, as you can see in the video.
The video also has an unboxing where you can see the cord, but I found out that the battery allows for 30,000 hours of operational life. There is about 6 hours of power on a full charge, and there is internal storage of up to 16 GB (that's about 4 hours of video and 4,000 songs of audio).
You will notice that once the projector is turned on, there is a menu for all kinds of things. I found it was pretty simple to turn connect my laptop to the M1+ and get a good secondary screen going on. I detail that menu in the video below.
While I'm talking about connection, I should talk about this secret pull-out panel which contains all of the ports. For example, there is a MicroSD card slot, a USB-A port, HDMI port, and a USB Type-C port. By the way, the Viewsonic M1+ comes with a USB-C to USB-C cord, and I guess you can have some fun with that for some fast-charging action.
By the way, you might not need the ports as it has integrated smart Wi-Fi connectivity for all kinds of video streaming. It also is Smart TV enabled to get just about anything from anywhere.
I have talked about the visual aspect of this product, but I haven't talked about the sound as yet. It has dual Harmon Kardon Bleutooth Speakers, which makes some for some fine audio for whatever you are playing.
If this is something that you want, head to the Viewsonic site and lay down about $314.99 for it.