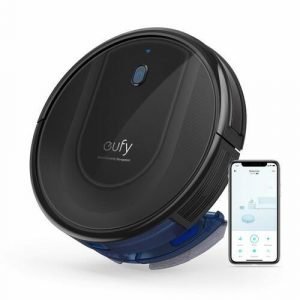 By now it's not too much of a surprise that we like Ankr products and Eufy Robovacs. We have reviewed a couple models of them in the past, but now we have even more to love. This is our first time reviewing a robovac that sweeps AND mops! It also has a new feature we haven't seen on the robovacs we've reviewed before. It talks!
The Eufy RoboVac g10 has done an excellent job in keeping my floors clean. We have a dog with lots of fur! Here is what the dustbin looked like after it ran through my house: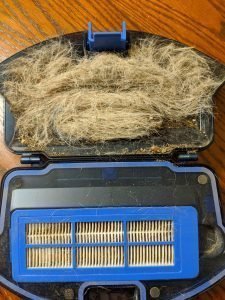 I thought I had done a good job vacuuming regularly beforehand, but the Eufy did an even better job. 2000 Pa is 4 x the suction power of the Eufy 10. I found that it is pretty powerful to clean up all our dog hair.
There is not a roller brush on this Eufy,  It's kind of nice not having to pull one out to clean all the hair. You do have to keep the side sweepers clean, though. They are identical to the ones on other models. The bristles at the end of the tool cleans the filter screen off . There is a little work required for the RoboVac. Someday I would love to get a self-cleaning robovac. Is that too much to ask yet?
To connect to the app, you need to have your internet on 2.4 GHz. 5G is not supported. That would be something I would recommend for change. Our house uses 5G. You can run the Eufy without the app, though. It just won't have the cool features like voice command through Alexa or Google Assistant. App options include:
Spot (spiral for 2 mins)
Suction (standard and max)
Clean (start, pause)
Recharge (home)
Find (locates Eufy if it's lost in your house somewhere)
Schedule (7 days a week and time for each day)
Other Great Features of the Eufy Robovac G10 Hybrid
The vacuum is 2.85 inches high- which makes it great at fitting under furniture to get hard to reach places that an upright couldn't get. It will run up to 40 minutes on high power, or 80 minutes regularly on hardwood floors. That seems to be shorter than the 100 minutes that our previous Eufy could last, but it is more efficient with gyro navigation, as opposed to bounce. It's pretty quiet so you can run it at night if needed. Did I mention it can connect to Wi-fi? Oh, and it also talks! Our old Eufy used to just beep when it was stuck or made it back to base. This one will actually say that it is charging or starting, or malfunctioning.
The mop feature is alright. They don't suggest using any kind of floor cleaner, so you are basically just spraying water on the floor and wiping up with a micro-fiber cloth. It is not going to scrub your floors and get out the tough things, but decent for keeping the floors shiny. The instructions recommend you vacuum three times before using the mop feature, and you have to actually fill the small reservoir and add it to the Eufy, but it's not too complicated.
 What Comes in the Box?
The RoboVac G10 Hybrid
charging base
AC power adapter
cleaning tool
water tank
2 washable mopping cloths
waterproof pad
4 extra water filter elements
extra vacuum filter
4 side brushes
5 cable ties
quick installation guide and manual
12-month warranty.
Want to buy Eufy RoboVac G10 Hybrid?
You can purchase one at Amazon.com for $299.99. This is a very comparable price to similar products, and definitely worth it. I'm loving my Eufy, and it would make a great gift for those wanting a smart home.
Thanks to Eufy for sending us this product to review free of charge. We are not sponsored by the company, and our fair and unbiased review is our own.
A Much Better Way for Everyday Cleaning US