Introduction (Does It Do What It Should)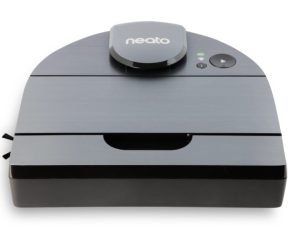 It's been a while since we have reviewed a Neato Robotics product, the last time was the Botvac D7. At this stage, I'm constantly replacing my robotic vacuum constantly, and I can't wait to check out the Neato Robotics D10.
I am told that the Neato D10 has 60 percent greater dirt pickup. You can also clean up 2,700 square feet on a single charge, for about 300 minutes. I am told that this particular vacuum is made for larger homes, and so I'm going to need to move into a larger home to properly test this out.
Well, that might be too much to ask for in a review, but I have in the video a chance to show how it works (sorry about the audio on the last part). It is pretty cool, and it uses LaserSmart SLAM technology with LIDAR that can map out your home. Seriously, it works along with the app, and I believe that I show that the app can create this perfect map of the home. I actually forgot to get a good shot of the map, but the Neato D10 is somehow able to make the map as it goes. The more it sucks, the more it won't suck.
Okay, that was really dumb, but I'm told that LIDAR is the thing that is going go give us the ability to have self-driving cars. When this goes around on the floor, it has the ability to find obstacles and go around them. By the way, you can use the app to create these "No-Go Zones" which will figure out how to avoid them.
I am told that there is a True HEPA filter that can capture up to 99.97 percent of the allergens and fine dust particles as small as 0.3 microns. This apparently includes a mesh cover that can clean and prolong the filter's life. While I am on the subject of the filter, my wife cleaned out the vacuum cleaner and soon discovered that she could not put this thing back on. Part of it was that we had the filter on backwards. Whoops! User error!
Okay, the only issue that I have had with this vacuum is that after I told it to go back to its charging cradle, it has a bit of an issue there. There's kind of this trim that doesn't allow the cradle to be flush up against the wall. As a result, the D10 didn't really hit the charging port correctly, and so it wasn't fully charged when it needed to be.
Facts About The Company
Neato makes "high-quality products that customers love". As well as "making the complex simple, and affordable". I mean, it is all about making things that are Neato, right?
What Does This Company Make?
Vacuums. Tiny robot Vacuums. Okay, not really tiny, but you get it. They are the robot vacuums that go across the floor and do a world of good. Other than accessories, that is about all I could find on this company, really. Normally, I like to review a lot of products that any given company makes, but I'm not certain if they'll let me review the D8 and D9. As I pointed out in the video,
Just the Specs, Man
If you're the type that needs this info, this section is for you!
Tech specs for Neato D10
DIMENSIONS: 12.71 in. x 13.22 in. x 3.99 in.
WEIGHT: 8.07 lbs
BRUSHES
Helix Multi-Surface Brush (11")
Side Brush
VACUUM CLEANER FUNCTIONS
0.7 liter dirt bin capacity
True HEPA H13 filter captures up to 99.97% of allergens (as small as 0.3 microns)
Brushed silver finish
Drop sensors
LIDAR mapping and navigation
Auto-recharge and resume
Info button with voice-based responses
Up to 300 minutes runtime
Cleans 2,700 sq. ft. on a single charge
Power consumption does not exceed 50W
APP FEATURES
New app and UI
Post-cleaning coverage map
Cleaning history
Zones designate areas to clean, and where Neato should stay away
CLEANING OPTIONS
Schedule cleaning
Whole house cleaning
Zone cleaning
Eco mode
Turbo mode
Max mode
Google Voice and Amazon Alexa compatibility
Okay, Get To The Unboxing Already!
What's in the box
Neato D10 Intelligent Robot Vacuum
Slimline Charge Base
Power cord (6′)
True HEPA filters (2 extra)
Brush cleaning tool
Helix multi-surface Brush
6200mAH 14.4V high-capacity lithium-ion battery
Let's Talk About Reviews?
Oh my gosh, on Neato's own website, the D10 has 97 five star reviews! And 25 four star reviews! Oh, and it has 35 one-star reviews. (What is up with that?)
Actually, I know exactly what is up with this. Much of the complaints of the Neato D10 stem from how the robot vacuum itself docks with its cradle. I address this in my video how it essentially knock the dock off, and it won't really charge well. Part of it is how the metal parts that serve as the contact points are quite small, like no thinner than a wire hanger. As a result, the D10 might let you down when you need it the most, which is my I fired my old robot vacuum.
Here's the thing: I received notifications when the battery was dead. It is enough to let me know that something had knocked the Neato D10 for a loop (a little loop), and I need to just make certain that it is charging. This just meant that I had to kneel down and make certain that the light was on, and for some reason, there is a lot of pretty colors that happen before it gets to green.
As you can see on the Amazon Affiliate link below, it has a 3.8 star rating. I find it hard to believe that it isn't a 4.0.
Okay, I Like It, Just Give Me The Link So I Can Buy It Already!
That price on Amazon seems to match what is on the Neato Robotics site for $399.99, and apparently, it was $599.99.
Maybe I Want It, But Is There Anything Else Like It? Maybe For A Lower Price? Please?
Well, did review this particular vacuum from Neabot with the NoMo N2. Then there was this RoboGeek 22T by dser, a robotic vacuum cleaner. Then there is the Neato Robotics Botvac D7, a connected robot vacuum. Then there was this time where we talked about 5 Best Robotic Vacuums That Can Clean Your House in Your Absence.