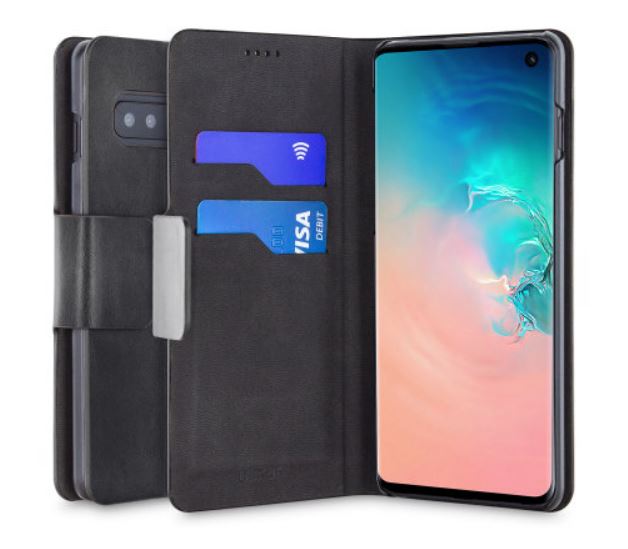 Okay, this review is going to be a little bit different. We usually like to do reviews of cases that last your typical 200-word length post, but this company which represents ZIZO, Nillkin, and Olixar, sent us so many cases, that we are going to use a few sentences rather than paragraphs.
ZIZO ION Series Galaxy S10 Case
Let's start with this clear case that has a very smooth feel and an anti-slip grip. It's military grade and has a triple-layer construction, and it is regularly priced here at $24.99 but is now $13.99.
Nillkin Camo cover case for Apple iPhone 11 (6.1)
So, what is this particular case? Well, we are looking at a Nillkin case, which I am not familiar with, with a cloth cover with camo. It's pretty pliable and smooth, and it is available here for $18.89.
Genuine Leather iPhone 11 Case
You can already see what this case has: genuine leather. It feels good to the touch, and it makes the iPhone 11 look even more classy. In addition to the nice outside, it has a great interior lining, and it provides a good grip while still being light. You can get it on the MobileFun site for $16.49.
Delta Armour Protective iPhone 11 Case
Now this Delta Armour Protective iPhone 11 Case looks like something from UAG. Note its complete metallic look and has a lightweight TPU polymer for protection. Normally, this guy sells for $15.99 on the MobileFun site, but it will sell for $7.49 until…not sure.
Genuine Leather Samsung Galaxy Note 10 Case
Here is another genuine leather case, this time for Samsung's flagship phone. I'm not certain what more I can say other than it is soft on the outside and inside, and it is light and slim as well. It can be purchased on the MobileFun site at a normal price of $16.49 with a special price of $7.99.
Attache Samsung Galaxy Note 10 Leather-Style Case
While this might not be genuine leather per se, it certainly has a look of an attache case, doesn't it? Seriously, it feels like you have an old Bible in your hand. At least it is for a good price regularly at $10.99 on the MobileFun site, or $5.49.
NovaShield iPhone 11 Bumper Case
The NovaShield is interesting as it is completely transparent, save for that cool black bumper that surrounds it. This is the only case that tells me that it is wireless charging compatible, It also has a pretty standard time of $13.99 on the MobileFun site.
Olixar Leather-Style Galaxy S10 Wallet Stand Case
So, I don't know why in the world it took long for one of these wallet cases to show up, but this one does that ad it is good with a stand as well. I actully wish I had this on my phone now as I watch Disney Plus while I write this report. Head to the MobileFun site for just $8.99 marked down from $10.99.
Leather-Style iPhone 11 Wallet Stand Case
And this is another case that can hold your credit cards, which was something I didn't mention in the last paragraph. Oh, and you can have some wireless charging power as well as some stand action in case you want to watch some vids. It is available now for about $10.99 on the MobileFun site.
ArmaRing Samsung Galaxy Note 10 Finger Loop Tough Case
Like Beyonce says: "if you like it, then you better put a ring on it". In the case of the ArmaRing, this ring can flip out and give your phone a steady place for a stand, not to mention a good place to hold it. It has a special price of $6.49 marked down from $13.99 on the MobileFun site.
Ultra-Thin Samsung Galaxy Note 10 Case – 100% Clear
I must say that this guy sure feels thin and very transparent, but it does provide you with an extra grip as well as some long-lasting protection. Not sure what else I can say about all the protection except that I love the low price of $4.49 on the MobileFun site unless it is not marked down for its usual $7.99.
Flexishield Google Pixel 4 Case
This Flexishield is similar to the last one, and it kind of slips on Google's newest flagship phone. Once again, there isn't much to say except the non-slip grip and only costs $3.49 marked down from $5.49 on the MobileFun site.
Ringke Fusion X Google Pixel 4 Tough Case
Now, this thing I like because I'm kind of big on transparent cases. I also like the frame, as it is like something I've never really seen before, ever. It is $13.99 on the MobileFun site.
Olixar Samsung Galaxy S10 Soft Silicone Case
Ah, yet another case that is one of those slip-ons. It is actually refreshing to see a device good for a non-slip grip as well. In other words, it's smooth, it's slim, and it is only $5.49 (marked down for $10.99) if you buy it on the MobileFun site.
Canvas Google Pixel 4 Wallet Case
This one has a nice feel to it, possibly because of the canvas. There is a definite slim textured canvas design, and it has a credit card slot as well as a viewing stand function. It has a pretty good price at $13.99 on the MobileFun site.
MeshTex Samsung Galaxy S10 Case
It seems like I am always finding cases with some unusual feel, but I really like this one. The MeshTex gives you some extra grip, probably the best out of all these phones. You can get it on a special price of $7.99 on the MobileFun site.
iPad 2019 10.2 Flexishield Case – 100% Clear
Oh, here is the start of the iPad cases, and this one is kind of a slip-on cover for it. It is quite thin and flexible, so it doesn't add much real estate to the new iPad tablet. It can be purchased for $5.49 on the MobileFun site.
iPad 10.2″ 2019 Folio Smart Case
So, we come to the last of our product reviews. This one is a Folio iPad case, which means it works as a stand of some kind. You can put the iPad to sleep, which will save on battery life. It is available on the MobileFun site for $10.99, unless it is the regular price of $21.99.