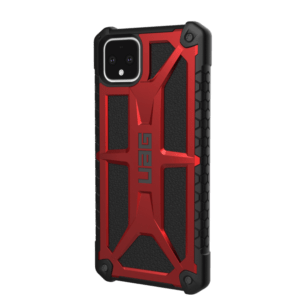 Okay, it's difficult to tell when the holiday season begins, but we are about to really get into it. I mean, all the Christmas ads begin after Halloween, so I might as well start with another fine Urban Armor Gear (UAG) product for a brand new phone, the Google Pixel 4 XL.
At this point, I don't think I can really say anything negative about the Monarch Series. I mean, we covered it for both the Google Pixel 3, Samsung Galaxy Note10+, and the recent release of the iPhone 11.
You got to hand it to the beautiful design of the Monarch, befitting of the title of royalty. Okay, that might got a little pretentious, but the Monarch Series case sure looks like a crown, like one of iron if not gold.
I'm pretty certain that I have already talked about its 5 layers of protection, and I am guessing one of them is some exoskeleton of metal. There is also leather involved, and the only difference that I can really see (or rather feel) is this kind of rubbery feeling when I squeeze the sides. Hopefully that doesn't make the case weaker, but it certainly gives the user a stronger grip.
So of course I can recommend this great product, available on the UAG site for a low price of $59.95.