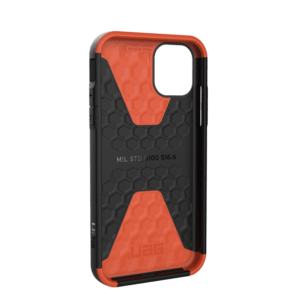 So it's another day, so it is naturally another review of a UAG case. This one is not the Monarch, but one I haven't really reviewed before: The Civilian Series for the iPhone 11.
I have no idea why it is the Civilian, but it is designed to "dampen and disperse the energy created when a mobile device collides with another surface". The case has this weird hexagon pattern that is able to protect the iPhone 11, and it reminds me of the materials that I saw on Tech21 phone cases.
Normally, the UAG cases have a very…armored look to them, like a buckle. I have used that descriptor before, but I like how smooth the outer shell of the Civilian is. This is the first UAG case that actually spells out the logo of "URBN ARMR GEAR", in this odd kind of abbreviated and yet not abbreviated way.
The UAG Civilian Case for the iPhone 11 is available in Black, Olive Drab, and Slate for $49.95 on the UAG site.