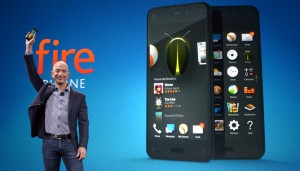 I reported two months ago that Amazon was rumored to be working on a new kind of smartphone, and I knew I was right to report on it, even though it was a rumor. Yesterday, Amazon's big head Jeff Bezos took the stage and announced the Kindle Fire Phone.
I will have to say that this phone looks all kind of awesome as it has a 3D display known as Dynamic Perspective. It has the rumored four-user facing infrared cameras that will gauge the location of your face and eyes. This allows you to shift the phone to give you a serious 3-D effect. This is good for looking at maps, and many of the controls use tilting. I am also told that these cameras can identify things, almost 100 million of them.
The Kindle Fire phone features a 4.7-inch Gorilla Glass display with an HD resolution screen. It has a quad-core 2.2GHz processor, Adreno 330 GPU, and 2GB of RAM. I've already mentioned the unique four-facing cameras, but there is also a 13-Megapixel rear-facing camera as well. It also features NFC, Bluetooth, a large battery life of 285 hours of standby time, 22 hours of talk time, 65 hours of audio, and 11 hours of video playback.
Now, here's the real kicker. It is only available on AT&T for $199 for the 32GB version, or $299 for the 64GB one.