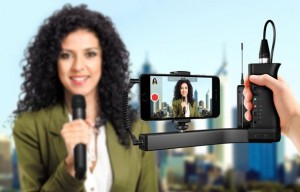 This next product reminds me of the Steadicam Smoothee from Tiffen, and IK Multimedia has a product known as the iKlip A/V which helps you do the same thing. In case you need a reminder, click on the link.
But if you are too lazy to click and read, here's the thing. It is a way of taking a smartphone and turning it into a steadicam. Why? Because you need one for your video channel. You do have a video channel, don't you? Yeah, I should probably get to work on that.
It has a high-quality XLR mic preamp with phantom power and built-in wireless receiver support. It uses 48 V phantom power with two AA batteries, and it holds any iPhone or Android device from 3.5 to 6 inches.
Now, you can find out more information about it here. However, this won't be the last time we report on this, and you should look forward to a hands-on review of it.