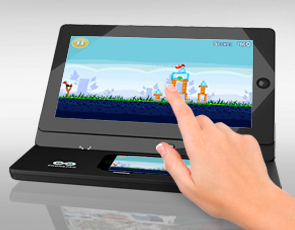 I believe that the purpose of this particular device, the PhonePad+, is to put your smartphone content on a tablet. Personally, I think something like this is a long time coming, but I would rather have it on my laptop.
The PhonePad+ is quite interesting as it can take what is on an Android phone and put it on a 10.1 inch touchscreen. Granted, it is only designed to work with the Galaxy series, and I would imagine it will work for the Galaxy S4 when it is released.
The resolution of the screen is 1024 x 600, and it can be spun around so it is facing the other way or flattened like a regular tablet. You can see more information about that on the official website.
The PhonePad+ won't be available until July, for a price of £149.99.