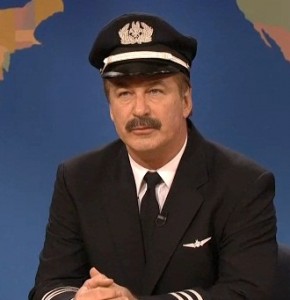 Yeah, that is Alec Baldwin dressed as an airplane pilot, and that was an SNL sketch back when he was kicked off a plane for not quitting his "Words with Friends" game. He had a good line during that SNL news parody, as he said: "Come on, if you think that a 747 could be downed by an iPod Touch that they would even let it near a plane?"
Apparently, it is possible to screw up an airplane with an Android smartphone. Teso, a commercial airplane pilot turned computer security consultant, has stated that it is possible to hack an aircraft from the passenger seat. In fact, it is possible to create some sort of exploit framework along with an Android app called PlaneSploit which can bring attack messages to the airplane's Flight Management Systems.
Okay, I don't really know what much of that means, but I did check on Google Play and PlaneSploit isn't available. Apparently, the two vulnerable areas are the Automatic Dependent Surveillance-Broadcast (ADS-B) and the Aircraft Communications Addressing and Reporting System (ACARS).
Okay, I've just chalked up another thing to be afraid about, but something tells me that I haven't heard that last of this.