Introduction (Does It Do What It Should)
I have to admit that I have had these Moochies Smartwatches for quite a while, and I haven't really got to them until now. Part of it was that I just couldn't figure them out, but I have them now. I'll get into why I had issues with them, but I will have to say that if you have younger kids, the Moochies smartwatches could be what you want. We have two models that we are looking at today, the Moochies Connect and the Moochies Odyssey.
Our Review of the Moochies Connect Smartwatch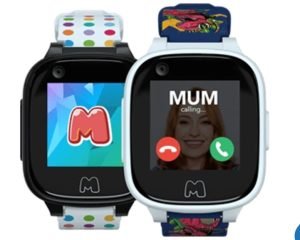 So, the Connect is made to connect to a smartphone, and I am assuming that is the origin of the name. After all, it has a free MyMoochies Guardian App on your smartphone, that connects you to the child.
I mentioned that I had an issue connecting to the phone, as what you need to do is turn on the Connect smartwatch and scan the QR code. From there, I found that I could make my first call, and I really enjoyed that. Part of it is the built-in SIM Card, and it is 4G active with GPS tracking.
I should talk about some other features of this watch, such as it is water resistant, up to IP67. Did I mention that there is a step-tracker? Well, it has it. There is also this feature of setting alarms for the things that you need, you know, so if you want reminders for homework or other things, that can happen.
By the way, there is some no-contract SIM Plans, so there won't be any surprises on the bill. You can also cancel or change the plan at any time it suits the user.
Okay, I will have to say that I had "issues" with the Connect, as I could not get it to work a second time. I have no idea why. I swear, there must be a curse for me reviewing Android smartwatches for younger hands.
Anyway, I will have to say that I did not review the Odyssey because I could not even find it on the Moochies website. Generally, I don't like to review things that I can't find on the website, unless I'm getting some kind of sneak preview deal.
Facts About The Company
I found out that the people who conceived of these Moochies products had an awkward experience happen to them. Apparently, they were on a shopping mall in Australia in 2015 and the co-founder's six year old niece ran off into the crowds.
Just to let you know, the kid didn't get lost, but it was enough to see that a lost child is a very real issue and source of stress. The next step was just thinking of how to prevent such stress in case the worst does happen.
What Does This Company Make?
Well, I looked over the website and saw that Moochies makes these smartwatches, and straps for them, as well as other accessories, and that is about it. I mean I can understand if the company is starting small, but who knows what this company is going to do next.
Actually, I've learned that the company produces 150,000 kids smartwatches globally, so they might just stick with this winner.
Just the Specs, Man
If you're the type that needs this info, this section is for you!
These are the specs that I saw on the Moochies Connect:
Memory: 512MB
Storage: 4GB
Display Size: 1.44″ IPS
Screen Resolution: 240 x 240 px
Screen Protection: Toughened (whatever that means)
Battery: 730 mAh
Camera: 0.3 MP
Waterproof: IP67
Strap Material: Silicone
As I mentioned before, I couldn't find any information about the Odyssey on the Moochies website.
If there is something on this that I didn't cover, please let me know.
What Do the Reviews Say?
I couldn't find this product on Amazon, or else I would show the results here. I can't seem to find any reviews for it on the Moochies site, either.
Okay, Get To The Unboxing Already!
Okay, I Like It, Just Give Me The Link So I Can Buy It Already!
Normally, I put the Amazon link in here, but I couldn't find it there. This might be a product from an Australian company, so here's the link to where it can be purchased on the Moochies site.
Maybe I Want It, But Is There Anything Else Like It? Maybe For A Lower Price? Please?
Actually…maybe. We're going to be reviewing another product known as myFirst Fone. I'll let you know on that one. Whoa, did I just reference a post that I haven't written yet?
No, I didn't, and the myFirst Fone R1S didn't go that well.