Introduction (Does It Do What It Should)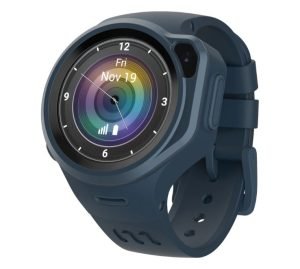 So, I am reviewing a smartwatch, specifically one designed for a little wrist (a kid's wrist). In fact, it is recommended for ages 5-12.
The myFirst Fone R1S has a 1.3 inch TFT round screen with a capacitive touch. It also has a 2 Megapixel front camera. As far as the battery is concerned, it is 580 mAh, which is good for a talk mode of about 6 hours. We're looking at about 8 GB of storage and has a NANO Sim card.
Here are the other features:
Unlimited Video & Voice Calls + Texting (Included AT&T SIM Card)
Accurate GPS Tracking
Geo-Fencing
SOS Alerts
Class Mode
Heart Rate and Step Tracker
Okay, now I'm going to get to a little more detail in the video, but I couldn't get this to work properly. Part of it is just scanning the included SD card, which I couldn't get it to scan correctly, and it just wouldn't take. Then I was supposed go to the website and try it from there.
I mentioned in the video that I tried to contact the people who sent me the myFirst Fone R1S, but I didn't hear back from them. This is one of those products that I can tell that I was doing something wrong, but couldn't figure out what I was doing wrong.
I have no reason to believe that this particular product can't send text messages, send distress signals, or any of its other many functions, because I've worked with myFirst before, and their products are well-made and usually do exactly what they are made to do.
Facts About The Company
For a company called "myFirst", can you guess what kinds of products that they might make? If you said: "technology made for very, very, very, very young hands, then you're right!
What Does This Company Make?
Heck, I've already reviewed several products from the company. I mean, there was the Oaxis myFirst Sketch book Portable Drawaing Pad. Think of that as some kind of cool tablet, without the apps. Then there was also the myFirst Camera Insta 2 and myFirst Headphones BC Wireless, which is great when your kids discover the wonders of audio.
Just the Specs, Man
If you're the type that needs this info, this section is for you!
Model myFirst Fone R1s
Display 1.3 inch TFT 240*240
Camera 2MP front camera
Battery Capacity 580 mAh, 3.7V
Motor Vibration motor
Charging Input DC 5V, 1A
Storage 8GB (1GB RAM)
Product Weight 53g
SIM Card NANO
CPU Dual core CortexTM A53 1.4GHZ
OS Android 4.4
Dimension 48 x 48 x 18mm
Water Resistant Rating IPX8
LTE B2/4/5/12/(17)/25/41
GSM Band2/5
WCDMA: Band2/4/5
WiFi 802.11 b/g/n (2.4 GHz)
Bluetooth Version 4.2, Version2.1+EDR
Supported Languages English, Chinese (Simplified), Chinese (Traditional), Japanese, Korean, Svenska, Norsk, Suomi, Dansk
If there is something on this that I didn't cover, please let me know.
What Do the Reviews Say?
According to the company site, there are only three reviews, and all of them are five star reviews. If you go to Amazon, then you'll get just one review, also five stars. I would say that seems sus, because dang it, very few products products get 5 stars. Particularly three reviews, so it is perfection with 3 for 3. Now, this is not what I would have given it, but I am biased that I wasn't able to get to work.
Okay, Get To The Unboxing Already!
Okay, I Like It, Just Give Me The Link So I Can Buy It Already!
Maybe I Want It, But Is There Anything Else Like It? Maybe For A Lower Price? Please?
In all honesty, we haven't really reviewed a lot of Android Smartwatches, or other types of smartwatches as well. I don't think I can say anything more about this.