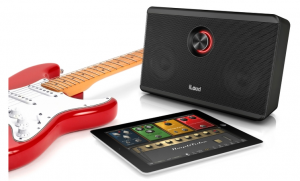 I have reviewed a lot of Bluetooth speakers, and this particular iLoud from IK Multimedia is one of the most high-powered ones for its size.
As you can see from the picture, the iLoud is made for musicians, and it is perfect for whatever musical style that you want. Not only can it be used with a iPad, it is about the size of an iPad, but 2.3 inches thick. It can last about 10 hours without recharging.
The iLoud can also be used without Bluetooth if you wish with the 1/8 inch mini-jack input. It can connect to a guitar, bass, or microphone directly into the speaker itself. It is definitely made for AmpliTube and other audio apps for performance, practice, and recording.
The iLoud has 40W RMS power and it is 2 or 3 times louder than other speakers of its size, probably better than that SkullCandy one I reported on yesterday.
You should be able to purchase the the iLoud for about $199.99, and you can find more information on it here. By the way, I have talked to IK Multimedia, and I will be doing a hands-on review of it soon.