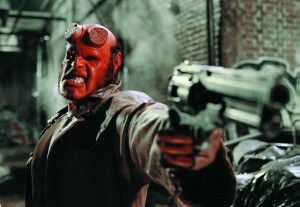 For some reason, I decided to have Hellboy week. Part of it was that I discovered the first movie on Netflix, and the found its sequel at the library. I once heard that studios did not want to touch a project called "Hellboy", and I think the reasons are pretty obvious. Does anyone really want to see a film where a devil is the hero?
Well, if Christians avoid Hellboy movies for that reason,they shouldn't. The movie story isn't about a devil, per se. I have no idea if the comic book is any different, but it was created by a talented artist named Mike Mignola, who created some really cool art back in the eighties. I can't speak for the comic book version, but the film Hellboy shows an escaped creature from a hellish "but not necessarily a literal hell" dimension, who grows up raised by a kind doctor named Trevor Bruttenholm, and works for the BRPD (Bureau of Paranormal Research and Defense).
Hellboy is kind of a mix of Men in Black mixed with Ghostbusters. That is, Hellboy hunts down harmful paranormal manifestations, but must always work in secret. Hellboy has two companions on his missions, one of them is an aquatic being named Abe Sapien, and the other is his girlfriend, Liz Sherman, who is pryokinetic (she can make fire at will).
I would have to say that I was not too impressed with the first Hellboy movie. I remember thinking that the plot was a little silly as it dealt with Grigori Rasputin trying to destroy the world by releasing the Ogdru Jahad or whatever. For some reason, I was more impressed with Hellboy 2, as it really showed how wide the world of the BRPD actually was. In that one, Hellboy met all kinds of creatures and the plot was due to a lost civilization who could not live in the world with humans. There was a lot of interesting stuff in that film, and yet it could still slow down so Hellboy and Abe can sing "I Can't Smile Without You" by Barry Manilow.
Perhaps the saving grace of the Hellboy films is that the main character is "destined" to bring about the destruction of the world, and yet all Hellboy wants to do is just be an ordinary person, which his appearance always negates. I find there is something that I can relate to with that. The message of Christianity is that humans can be redeemed from their own destruction, and it is comforting to see something similar on screen.
I haven't hear anything about a Hellboy 3 as yet, but I wonder if they are working on it.