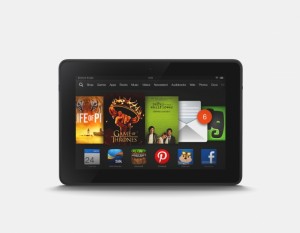 I guess we really should have seen this one coming, as Amazon has just announced the latest version of the Kindle Fire. Okay, it was yesterday, but give me a break, they didn't post this by the time I was looking for stories for the day.
Welcome to the age of the Kindle Fire HDX, which should last a year, I guess. Like the new iPhones, they come in two forms. In the Kindle's case, it has a 7-inch (1,280 x 800 resolution) model and an 8.9 inch (2,560 x 1600 resolution) model.
Some of the new features include an ability to "fling" a video to a Second Screen like a Samsung TV or PS3. You can also be able to web browse, and use the X-ray media feature, made popular in the last Kindle model. By the way, it has a month of free Amazon Prime, which I thoroughly enjoyed when I had the first version of the Kindle.
Not only will the HDX models support 4G LTE wireless on Verizon and AT&T, but they operate on Fire's OS 3.0 "Mojito" with lots of cloud syncing. There is also a Mayday button to contact Amazon the moment something goes wrong.
I believe that both models will have dual stereo speakers with Dolby Digital Plus audio and virtual 5.1 channel surround sound, as well as a 2.2GHz processor and 11 hours of battery life. As for the 8.9 inch model, it has front and back cameras with 8 Megapixels each.
The price should be easy on the consumer as the 7-inch HDX will ship on October 15th for $239, and the 8.9 inch model will ship on November 7th for $379.