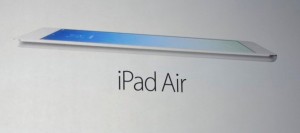 Hopefully, you heard that Apple was making a big announcement today, which usually means that I am pretty busy today. Tim Cook himself took the stage and sure talked about how good it was with 81 percent of the market and 170 million sold. Eventually, they talked about the new iPads, with the initial billing of "thinner, lighter, and more powerful". This is the iPad Air!
The iPad Air has a 9.7 inch Retina display with a 43 percent thinner bezel. It is 7.5 mm thinner, approximately 20 percent thinner, actually. The last version of iPad was 1.4 pounds, and this one is 1 pound.
As for what is inside, it has the A7 chip and it is eight times faster than the last generation. Applications can load up twice as fast, with a two-fold increase in rendering.
Then there is the 10 hours of battery life feature, 1080p H video, a 5 Megapixel iSight camera, dual microphones, and a new FaceTime HD camera with larger pixels.
There is also a new iPad Mini! It has a Retina display with 2,048 x 1,536 resolution. It also has the A7 chip inside, 10 hour battery life, and graphics that are 8 times faster.
You can get the iPad Air for $499 for the 16 GB version, and $629 for the Wi-Fi and Cellular version. You can get the iPad Mini in 16GB version for $399, and a Wi-Fi and Cellular version for $529. By the way, there are some new iPad Accessories, like a brand-new cover for $39.