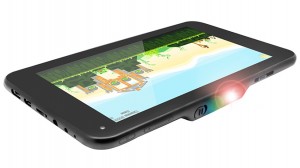 I have seen smartphones that had a built-in projector, but I don't think this really caught on. I mean, you don't see latest versions of the iPhone or Galaxy S having projectors on them.
Promate has created the LumiTab, which is essentially a tablet with a projector, and one that is capable of a projection of up to 100 inches. Yes, that would be pretty easy for making presentations, and no messing with a projector or anything.
As far as any internal machinery is concerned, it has a 1.5GHz dual core ARM Cortex A9 processor, 1GB of RAM, and 16GB of storage with microSD slot as well. The screen is at seven inches with a resolution of 1024 x 600, and the projector is good for 35 lumen with 854 x 480.
So, will the next iPad have a projector? I don't know. I also don't seem to have a price on the LumiTab.