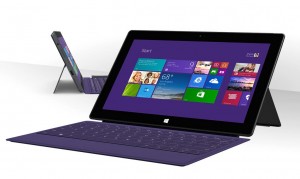 It has been a while since Microsoft updated the Surface, so the sequel to the Surface 2 should be the Surface Pro 3. Yesterday, Microsoft had a big announcement with the Surface Pro 3.
With every new version comes some new features. In the case of the Pro 3, it is larger at 12 inches. It also has a lot of pixels at 2,160 x 1,440, which is the highest resolution of all the models. I'm not certain whether or not it is thinner than the last version, but it is 9.1 mm. Just so we can get any measuring dimensions out of the way, it weighs 1.76 pounds (800 grams).
Another new addition to this year's model of the Surface is a new type of kickstand to hold the screen at 150 degrees. The keyboard is also bigger to match the screen, and its upper portion can fold up and attach magnetically to the tablet's lower bezel. My Sources says that this feature makes the Surface Pro 3 be more like a laptop than ever.
One last feature is an included N-trig digitzer pen which allows for unlocking the Surface with a simple click on the top. There is no place to hold the pen on the device itself, but there is a strap-like thing for it.
If you want it, it will start at a price of $799.