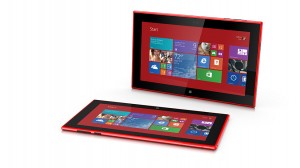 In case you thought that the iPad Air was the biggest announcement for tablets yesterday, that is only the half of it. Nokia actually unveiled a lot of interesting things just before the big Apple announcement, but they have been eclipsed by the big Apple.
Nokia's 2520 tablet is definitely something to give both iPad and Surface users an alternative with its 10 inch screen. It has a 2.2 GHZ quad-core Qualcomm Snapdragon 800 chip, a 8,000 mAh battery, and comes with Microsoft Office as well as support for 4G LTE. The cameras are a 6.7 Megapixel Zeiss lens on the back and 2 Megapixels on the front.
The 2520 tablet will be available in many colors including Red, Glossy White, Cyan, and Matte Black for about $500 by the end of the year.