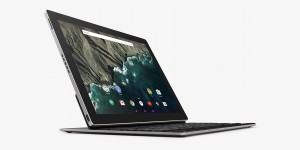 I'm sure you already know about the big announcement that Google made concerning some new devices, the Nexus 5X and Nexus 6P, not to mention the new Chromecast and Chromecast Audio. However, something really funny happened at the end of the presentation as Google decided to just show off the Pixel C.
Let me put it this way: I was writing about the Google event, via a live blog, and then I was about to post the story about it, and then the Pixel C shows up. Google could have easily put it first, surprising everyone in attendance, and worked their way up to the Nexus devices and the new Chromecast. Instead, this new tablet comes off as a deliberate tease.
The Pixel C is the first tablet that was designed in-house, but instead of giving a full spec rundown on it, Google decided to leave it deliberately unknown. They said that it would be out around Christmas.
This tablet looks like it is meant to compete with the iPad Pro as well as the new Microsoft Surface Pro 4 that is expected to be released. Like these other tablets, there is a keyboard, but this one looks optional for a price of $149.
What we know so far is this: it is a 10.2 inch tablet with a USB-C port for charging. So, this is pretty mysterious, and I want to know more about this guy.