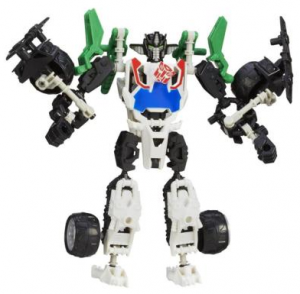 In addition to the Angry Birds Star Wars toys, I also had a chance to review some of the Transformers toys as well. Transformers is one toy that has really been done to death, and I am not talking about the Go Bots. Just when I thought that I had seen everything with the Transformers, along come the Construct-Bots.
The Construct-Bots are a new set of Transformers that are based on the first generation of Transformers. I am not talking about the ones that appeared in the Michael Bay movies or other incarnations, but the original eighties cartoon models of Optimus Prime, Wheeljack, and others. It makes me nostalgic just to think of them.
Hasbro has previously tried to make the Transformers with their Kre-O collection. Kre-O is Hasbro's version of Lego, and it is actually compatible with the big brick itself. The problem was you could build the robot, and the vehicle, but you could not build a robot that would transform into the vehicle.
With the Construct-Bots, you can use the separate pieces to make a robot, and this robot will actually fold up into a vehicle. If you have enough of these pieces, you can create your own Transformers. This would have been a godsend to my eighth grade self.
If you are out to re-capture your eighties inner child, or you know someone who is a child, then you might want to get down on this. You can get that Wheeljack model for just $14.99. Head on over to the Hasbro website to learn more about them.
So, this is an old article, but if you are looking for the Best Transformers Toys for 2019, look no further than this recent article on Transformers Toys.