Some of us like to listen to music as we fall asleep. The product that I'm about to review might be something you would appreciate if you are in this company. The Sleep Headphones/Eye Mask by 1 Voice could help you get a good night's sleep.
We've reviewed a similar product to this called SleepPhones by AcousticSheep. The main difference between the products is that the SleepPhones wear around your head like a headband. The Sleep Headphones/Eye Mask is actually an eye mask that will cover your eyes as you sleep.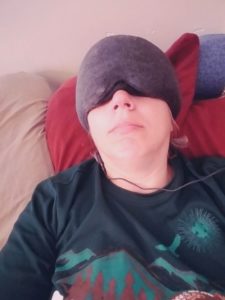 This eye mask is made with memory foam which makes it very comfortable on your face. It's also covered with a satiny material to add to the luxuriousness. The speakers are covered by the memory foam as well, so there is no uncomfortable position. There is a stretchy jersey-type material that helps block out light across the bridge of your nose. The adjustable velcro strap will help hold it on your head. The satin cover is also machine washable.
I think there could be a problem if your ears were set further back on your head than average. One size does not fit all with this eye mask. Also, my kids could hear my music when it was louder. There is an adjustable volume knob on the wire of the sleep headphones. When I turned my music down a bit, they couldn't hear it. I think it's similar with the SleepPhones we reviewed. Maybe if the person you are sleeping next to is bothered by the noises coming out of your sleep mask, you could get them a pair as well.
Overall, I think this is a great product if you need to block out the world and fall asleep listening to music or white noise. You can purchase a pair for $49.00 on their website. They come in grey, pink, blue or black. If you want to avoid the cord altogether, there is a bluetooth option in blue and black for ten dollars more.
Disclaimer- 1 Voice NYC sent us these products to review for free in exchange for our fair and unbiased review. No other compensation was provided.