If you are in need of multiple charging ports at your desk, we have a product you might be interested in. With all the technology we own these days, who doesn't need something like this? This is a four port charger by the company, Anker. We've done many a review for them. We even very recently reviewed a similar product that only had two ports, and plugged directly in the wall- the PowerPort III Duo.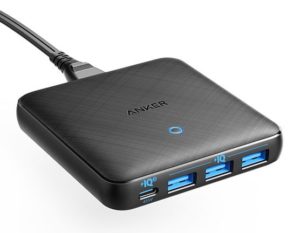 This slim and portable device has the capability to charge 4 devices simultaneously. Now, people should realize that this product only has a 65 W capacity, and the maximum output from the PD port is 45W only, so you are not going to get a comparable charge on something like a 2019 MacBook with the 96W Apple wall charger. It's still compatible, but it's not the same.
You CAN use the three USB ports which share a total of 20W, and the one USB-C port to fastcharge a phone simultaneously with other devices like a smartwatch or tablet. The ports use the Power IQ3 technology for speedy charging- the USB-C port, of course, being the fastest.
It's very slim- 0.7 inch- making it very portable, but realize that it does require the detachable 5 ft wall plug-in. It will be helpful to make sure you receive the right plug-in for your country. But if you happen to receive the wrong one, as we did at first, Anker has good customer service and will help take care of you.
Also in the box, you get some adhesive to stick this device to your desk, though that really defeats the purpose of being portable. If you need a port hub for your desk, though, this is helpful. it does not pass data between ports. It's merely a charger. Although it comes with the wall plug-in, it does not include cables for charging.
We were sent this product to review for free, and we are not sponsored by the company. Our reviews our fair and unbiased. If you'd like to purchase an item like this one, they are on Amazon.com and also the website for $53.99.