Lifeproof is not just in the case business, as we have also reviewed this speaker by them. They have also come out with a line of products to attach your phone to while you exercise or live an active lifestyle. One item in that product line is the LIFEACTÍV Armband.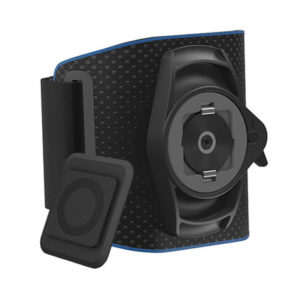 The armband is fully adjustable from a little twig arm(8.5 in) to a big bicep of 19 inches. There are three sizes of straps, so you pick the one that best fits. The system comes with an adapter that adheres to your phone or case with 3M adhesive. It's pretty easy to set it all up, and there's a great video to show you how to do so if you are a visual learner.
The system is pretty easy to use- just click it in and go. There is a lock lever to secure it.When you have the adapter on the back of your phone or case, you can use it with all the different Quickmount accessories.
I had an armband to store my phone a long time ago, and it wasn't easy to use like this is. When I needed to take it out, I'd have to mess with velcro and such, but this system is so much better! If you have this and the Quickmount car holder, you can unclick it from your arm, and place it on the waiting car holder as you get in.
We got the armband to review free of charge, in exchange for our honest and fair analysis, but if you want to buy it, you'll pay about $49.99 on the Lifeproof website. No other compensation was given, and we are not sponsored by Lifeproof/Otterbox.