We've reviewed BuddyPhones in the past. It's been over a year, but we reviewed the BuddyPhones WAVE by Onanoff. Today, we get a chance to review another in the line of BuddyPhones. These are the BuddyPhones PLAY.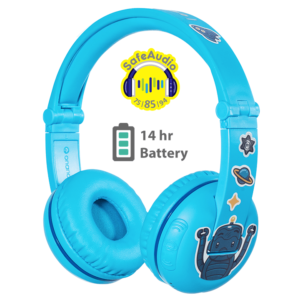 The BuddyPhones PLAY are wireless headphones made especially for kids. It has a 14 hour battery, which is not as long as the 24 hour battery of the WAVE, but it's still a pretty decent amount of battery for wireless headphones. The PLAY has the same four listening modes of the WAVE-for toddlers, kids, travel mode and study mode- which allows kids to hear voices more crisply while still protecting their hearing.
These headphones are not waterproof like the WAVE, but they have the same sturdiness. The design is comfortable on the ears and head with great cushioning. They store easily, as the earpieces fold in. It also comes with a soft carry bag to store them in. Kids will love the decorative stickers that come in the box for customizing their headphones the way they want them to be. In the box, you will find all the things you see here.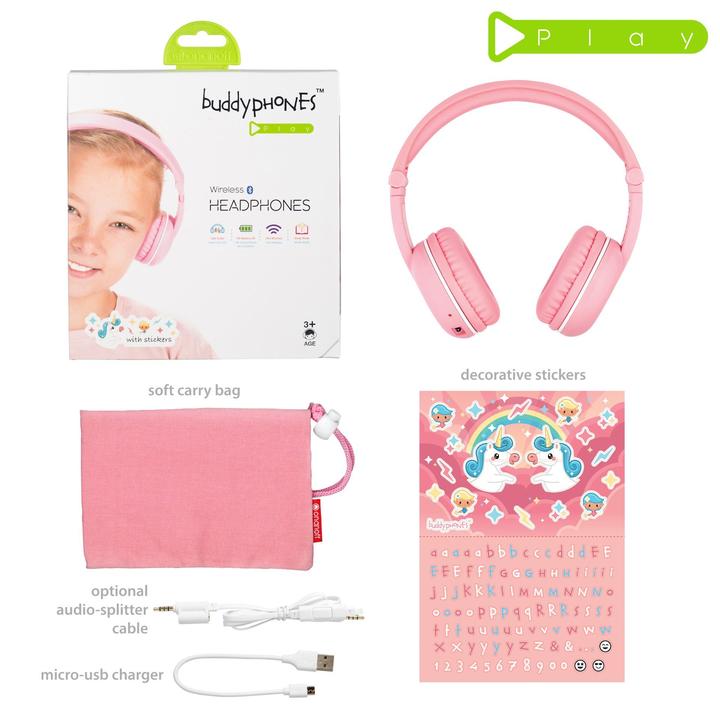 Other great features include a built in 360 microphone. Kids can be up to 30 ft away from their devices while wearing these, so they could jump on the trampoline without damaging their tablets or phones, but still be able to listen to music. If multiple kids with BuddyPhones want to listen to the same thing, they can use the audio-splitter cable.
BuddyPhones PLAY comes in four colors- pink, blue, yellow or green. You can buy them for $49.99 off their website, or on Amazon.com.
We received a free pair of the PLAY headphones for review purposes, but we are not sponsored by BuddyPhones, and do not receive compensation for our opinion. If a purchase is made through our Amazon Affiliate link, we may receive a portion of the profit.