Ironically, this is almost the same time that we did a very similar review last year. It just happened to coincide with the time Mark came back from CES last year with a Catalyst product to review. Last year, we reviewed the waterproof case for Airpods, and as Apple updates their products, Catalyst matches those updates, so here is a case for the Airpods Pro.
There are different levels of these Catalyst cases for the Airpods Pro, but the one TechnoMark got at CES 2020 looks like this: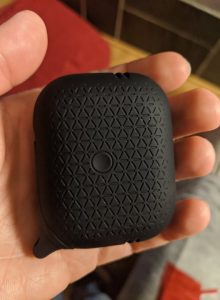 The carabiner is found inside, along with instructions. There is a little covered slot where you can attach the cord to charge with your lightning cable(not included). The rubberized case fits snugly around the Airpods Pro case and provides extra protection for impact(4.0 ft. drop proof), and also waterproofing(IP-67). There are waterproof sealing ribs around the top to keep that water(and everything else) out.
Because the case is rubberized, it does tend to attract lint and whatnot. Right out of the box, there were little white flecks that do come off, but it probably won't stay pristine in a pocket. A friend asked if there was a case for Airpods out there the other day that didn't attract lint. I'm thinking maybe not. At least you can just clip this to the outside of things like a backpack or belt loop. They don't really need to look pristine, right?
The good news is that you can also charge your Airpods wirelessly without removing the case. You can see the charge light through the case there in the middle.
Available in Stealth Black, Flame Red, and Midnight Blue for $34.99, these are the most expensive of the series. Also, shipping is not available until the end of January. You can pre-order them now.