D-Link has been a company of which we have done many a review. They make routers of many sizes and capabilities. This is the first time we've done a review of this kind of router. With names like McAfee and Intel associated with the router, you know it will be a good one. We will be reviewing the D-Link D-Fend Wi-Fi Router in this article, though.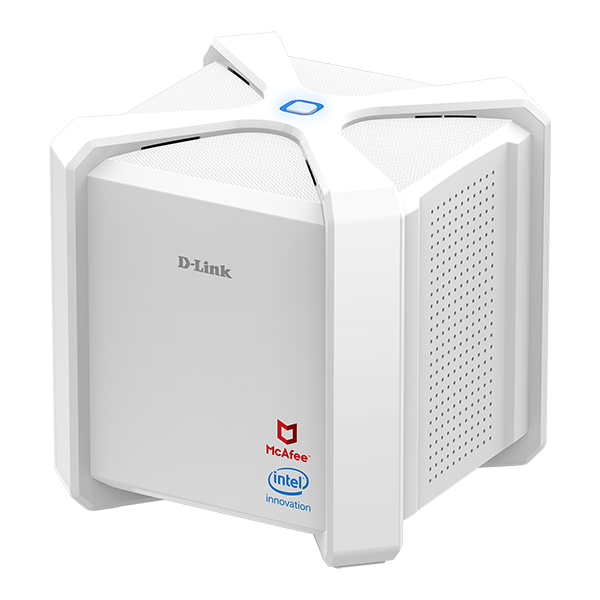 The D-Fend has been upgraded with the 802.11ac standard technology for better speed and coverage. It's not the latest wi-fi 6 standard, though, and the download speeds are not as fast as more expensive routers. Still, it works well for our family of five using multiple devices at a time. The built in McAfee protection is great in blocking from malware and viruses.
Two apps need to be downloaded for the best management. There is the D-Link Wi-Fi app (available for iOS and Android). That will help set-up and configure the router. You can also use your web browser from a computer to set up access as well.  The router's  security features and parental controls are controlled by a separate D-Fend app. This app allows you to monitor and control devices connected to your router. If you don't want your kids on their phones during a certain time, you can pause the internet for their devices, too. If you will be gone from your home, you can put devices on "Away Mode" so they will not be connected to internet if not needed. If you have Alexa, you can use your voice to control this instead of needing the app.
Also included with these routers- a five-year complimentary subscription to the Secure Home Platform service, worth $495. If that wasn't enough, you get unlimited licences for McAfee's LiveSafe, an antivirus program for computers and mobile devices (iOS and Android), for two years (worth $259.90). Any device that uses the network from this router can be sent a free download link for the software.
We love the look of this router. It's box-y and doesn't have antennae that get in the way. The six inch cube has one 10/100/1000 Gigabit Ethernet WAN port, three Gigabit Ethernet LAN ports, and one USB 3.0 port to share media from a storage device.
If you want to purchase this router for your tech family, it is $199 USD on Amazon.com. We received ours for free in exchange for our fair and unbiased review. No other compensation was given. If you purchase through our Amazon Affiliate link, we will be compensated in that manner.