Almost half a year ago, we did a review of the Eufy Robovac 30C. I'm glad to say that I still love my little robot helper. Today we'll review the 11S, which is very similar, but has a few differences.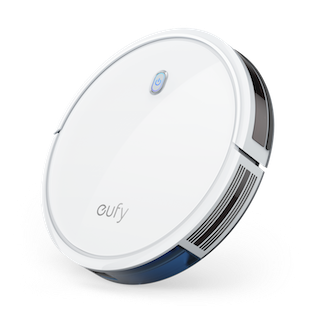 The 11S Eufy Robovac has many of the same great features of the 30C. It is still 2.85 inches thin, so it goes under furniture well. The features of the 11S and 30C are pretty comparible. Differences are that the 30C is $70 more and somewhat more powerful. The 11S does come in color choices of white or black. Also, the 30C is controllable by app and connectable to your Wi-fi. They both come with remotes to control them, however.
The similarities include the 100 minute run time. They both have a climbing threshold of 0.63 inches to make their way from your kitchen linoleum to your carpeted living room. The dust collector bins also have the same capacity of 0.6L. They also both have Boost IQ Technology.
What's in the Box of the Eufy 11s?
Remote control with the 2 AA batteries included
Charging base
AC power adapter
Cleaning tool
Extra set of high performance filters
Four side brushes
5 cable ties to help get your cords out of the way
Pretty much the same thing as before, although the magnetic strips do not come with this version. Those strips are good for keeping the Eufy from going to places you don't want it to go, but you can create your own barriers.
The Eufy Robovac has been a great addition to our family, and we did receive a free model of both to review. If you would like your own to clean your house, you can buy one off the website, or click on our Amazon affiliate link, where we can receive a portion of the profits. We are not sponsored by Eufy, or paid for our fair and unbiased analysis.