Eufy has been a company that has kept us supplied with products to review. Lately, we've seemed to be on a security camera reviewing spree. We'll keep that going now with the Eufy Smart Floodlight with Camera.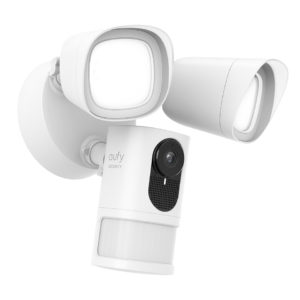 Floodlights are good to have on the house to help you see outdoors at night. These dual floodlights are 2500 Lumens, which is pretty powerful. They are run on motion detection, which is always a useful function when you want to save on electricity. Floodlights are well and good, but now you can have more.
Yes, this Eufy product will give you smart control, surveillance, instant notification and recording, real-time communication via 2-way audio, and more.
Smart Control
Using your Smart products like Alexa or Google Assistant, you can activate or dim the floodlights through voice command. There is also a downloadable app to give you control through your smart phone.
Surveillance
With the motion detection and a 1080p HD camera, you can see what's happening outside of your house when it matters most. The camera covers a 140 degree wide angle area. It records in full color- even at night. None of that green stuff. with night vision. The HD camera makes it better to identify things like license plates and such. Also, you don't have to pay a company any kind of membership fee to store and access your video. You get free 7 days worth of storage.
And More
Other strong points include a 100dB Intruder Siren. Frighten those burglars off  with a loud alarm that can be remotely set off and turned on or off.Data is secured by logging into your account to access. It's also weatherproof, so you can rest easy knowing that your device is going to work- even after being outside in the elements. It operates in extreme temperatures as well.
If you want to know more, or purchase this product, go to the website. It is available in white for $199.99. We were given this product for free to review, but we're not compensated for our free and unbiased analysis.