TechnoMark had a great time at CES 2019– including when he won this nice product from Gaze Lab. Gaze Lab is a Korean company that makes a smart desk, but they also produce wireless chargers and even a case for AirPods. We have decided to review this product he won- the GazePad Pro.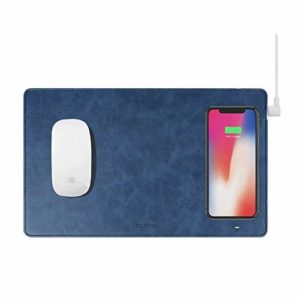 This leather pad will help create a clean look to your workspace. It has dual function to charge your Apple or Android Qi- compatible device while holding your mouse as well. Three coils(as opposed to one coil on other mouse pad chargers) help to give a wider range of wireless charging on the pad.
An LED indicator lights up to tell you if the pad is charging, fully charged, or if your phone is not placed properly or overcharging. A USB-C to USB-A cord is included. I thought that the white thing protuding from the top right of the mat in the picture above was a little antenna, but it is not. That is the connecting cord. There are two USB-C charging ports. It is not recommended to use both of them. It is just available if you want to use a different position in your connecting cord.
The colors the pad comes in are black, gray, brown and midnight blue(the color we received). The Gaze Lab website sells it for $59. Amazon.com sells it for $39.00, though.
Thanks to GazeLab for the cool gift. No compensation was given for us to write this unbiased review.