We have another phone case review- the 2nd we've done for this company. With Prevent the Drop® technology, you can combine phone grips with a variety of cases into one for some great phone protection.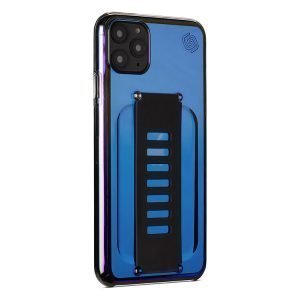 We got this case for the iPhone11, and our daughter used it on her phone for a while. She liked the iridescent color to her case, and the rubber grip that she could slide her hand through for a secure hold. Her case was this indigo color, but this series also comes in Iridescent Flamingo(pink) and Iridescent Raven(purple).
Other features of the case include the slim design which allows for wireless charging, and it has been drop-tested(although, if you are using it right, you shouldn't drop your phone…). The case for the iPhone 11 doesn't have the kickstand that the other Grip2ü cases do, but those kickstands weren't all that steady anyway, and you can use something else as a phone stand.
The price for these cases are $29.99, and that seems to be a pretty reasonable price for a case like this.  We received ours free of charge for the purposes of our review. No other compensation was given for our fair and unbiased analysis.